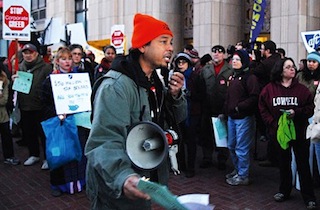 Venture capitalist Tom Perkins caused quite the controversy when he got a letter to the editor published in the Wall Street Journal a fortnight ago wondering if the disdain for America's elite was analogous to the Nazi's oppression of Jews in the years leading up to the Holocaust.
The Journal appears enamored of the comparison. It ran an editorial last week calling Perkins' rhetoric overblown but otherwise supporting his thesis that the 1% are being hounded.
On Tuesday morning, the paper published "The Dark Side of the War on 'the One Percent,'" an op-ed by Ruth Wisse. Wisse, a Harvard professor of Yiddish and comparative literature, argued that Perkins' analogy had more to it than initially appeared, and not only in the fact that an attack on America's wealthy inevitably targets Jews. Wisse said that "stoking class envy" is a common tactic of "negative" movements, of which anti-Semitism is the most virulent, and drew a parallel between class-based rhetoric and anti-Zionist sentiment on the left.
"In channeling blame for today's deep-rooted and seemingly intractable problems toward the beneficiaries of that society's competitive freedoms, they are playing with fire," Wisse wrote, adding:
My point is broader: Stoking class envy is a step in a familiar, dangerous and highly incendiary process. Any ideology or movement, right or left, that is organized negatively—against rather than for—enjoys an inherent advantage in politics, mobilizing unappeasable energies that never have to default on their announced goal of cleansing the body politic of its alleged poisons.

In this respect, one might think of anti-Semitism as the purest and most murderous example of an enduring political archetype: the negative campaign. That campaign has its international as well as its domestic front. Modern anti-Zionism, itself a patented invention of Soviet Communism and now the lingua franca of the international left, uses Israel just as anti-Semitism uses Jews, directing grievance and blame and eliminationist zeal against an entire collectivity that has flourished on the world scene thanks to the blessings of freedom and opportunity.

Herein lies a deeper structural connection. On the global front today, the much larger and more obvious beneficiary of those same blessings is the democratic capitalist system of the United States, and the ultimate target of the ultimate negative campaign is the American people. Anyone seeking to understand the inner workings of such a campaign will find much food for thought in Mr. Perkins's parallel.
[h/t WSJ]
[Image via Evan Ducharme/ S.F. Examiner]
——
>> Follow Evan McMurry (@evanmcmurry) on Twitter
Have a tip we should know? tips@mediaite.com