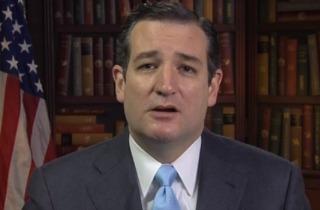 The Wall Street Journal editorial board published a tight and scathing criticism of Sen. Ted Cruz (R-TX) on Thursday after the freshman senator criticized Republicans who helped to pass a clean debt ceiling limit increase on Wednesday. The board criticized Cruz for lacking a strategy and for pursuing an ideological agenda that would result in negative consequences for his party.

"The Senate passed the House debt-limit increase on Wednesday, but not before some needless drama that helps to explain why Republicans remain a minority," the WSJ piece began.
They went on to note that not passing a debt ceiling increase would likely have provided Democrats with an effective anti-GOP talking point, which is "exactly what Democratic leader Harry Reid wanted."
RELATED: Rand Paul and Ted Cruz Tell Hannity GOP is 'All One Big Happy Family Now'
"The 60-vote threshold was reached only after GOP leaders Mitch McConnell, John Cornyn and 10 others voted to let the final debt-ceiling vote proceed," the piece continued. "All 12 then opposed the increase on final passage, but thanks to Mr. Cruz they had to walk the plank with Democrats on a procedural vote."
He also had no alternative strategy if the bill had failed, other than to shut down the government again, take public attention away from ObamaCare, and make Republicans even more unpopular
The WSJ closes by asserting that, if the GOP fails to retake control of the Senate in November, that will be due in large part to the "rump kamikaze caucus" led by Sen. Cruz.
Read the full editorial via WSJ
[Photo via screen grab]
— —
> >Follow Noah Rothman (@NoahCRothman) on Twitter
Have a tip we should know? tips@mediaite.com