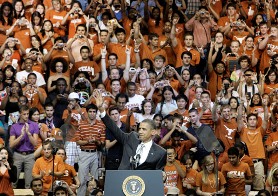 Just two years after all that hope and change, we're in a much different place as a country.
Now Politico examines the enthusiasm gap in the context of college students: "For college students, it's so not '08". So what happened?
Reports Matt Negrin:
One statistic from Rock the Vote, the most aggressive organization behind youthful political participation, illustrates the difference between now and 2008 — just 280,000 young voters signed up in its midterm elections voter drive, a fraction of the 2.5 million who eagerly put their name on voter forms two years ago.
Negrin then looks at specific county new voter registration, which show major discrepancies between 2008 and 2010. The question is why – but the answer isn't that hard. Sadly, young people don't care. Did everything think the "change" in 2008 was a change forever?
There's something else though. While college students, and millions of other formerly mostly-apathetic Americans, believed strongly in the "change you can believe in," they haven't felt the impact of the supposed change in the first two years of Barack Obama's presidency. For college students (and again, for millions of non-college student Americans), jobs are the most important issue, not health care. The Obama administration chose to make health care the issue during the first couple years, and accomplished some goals on that front. But the job market has not been transformed in the way students likely expected when they excitedly came out to the polls two years ago. Connecting the dots, it appears this led some in college to change their D to an R. From the Politico story: "Young people also are marching to the right, identifying with Democrats at just a 9-point margin over Republicans, a Rock the Vote poll from late August reported. In 2008, that margin was twice as big."
An 18-point difference in 2008 was significant, but nine points now? Taking into account a margin of error as well, the Democrats should view this number as an epic disaster. It's actually more important than another surprising "twice as" statistic from 2008 to 2010: "70 percent of students said they 'definitely' planned to vote in 2008, only 35 percent said they'll do so this year, according to a new Harvard Institute of Politics poll."
The apathetic collegiate atmosphere is a disappointing reality, and it appears in two years the apathy has returned in full force. But it isn't just that Pres. Obama's inaction has brought students back into their tiny dorm room beds. When they emerge from their hungover nap, they're voting Republican by a notably larger margin. The media as a whole, which was at best friendly toward the Obama campaign in the run-up to the 2008 election, has shifted. Critics will say the media still takes it easy on Pres. Obama, but the tone is certainly different. Some of what the Obama administration has taken heat for couldn't be predicted – BP oil disaster, for one. But some of the media's harshest critiques have come from in the form of questioning what, exactly, the administration has done these last two years. For college students who turn on the news, these results are even more disappointing than for the rest of the country.
In some instances, the media assumes that wedge issues like marijuana legalization will excite the youth and get them to the polls. But pot no longer draws college-only interest – this generation of young people are the first where the majority of their parents have tried marijuana. Seeing the issue on the ballot in four states is not nearly enough to get a college-age constituency remotely interested in a midterm election, coming two years after some change they thought was coming never materialized.
College students are culpable too, of course. This fickleness, but mostly disinterest, confirms the worst of how young people in America are stereotyped. But for millions of students who screamed "Yes We Can" for a compelling, energetic, youthful candidate in 2008, the reality is these past two years felt a whole lot like the two years before that. It's a serious issue the Obama administration needs to correct in the next two years if it wants to remain in office for another four.
—–
» Follow Steve Krakauer on Twitter
Have a tip we should know? [email protected]