A loyal Mediaite reader sent along this photograph of former Gov. Sarah Palin during her recent appearance in Las Vegas, Nev.: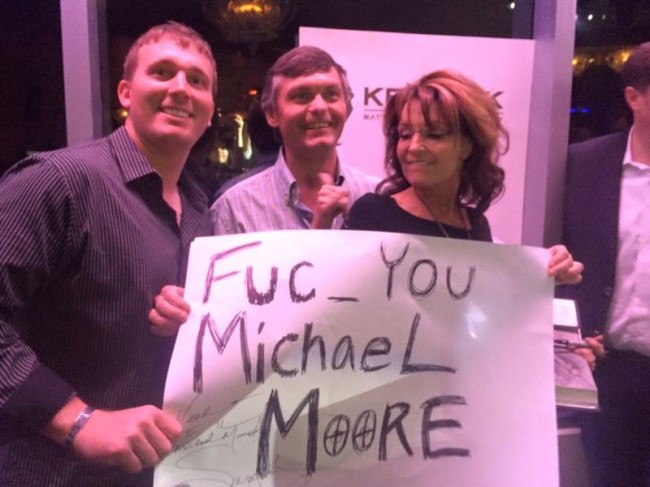 As you can see, the men are holding up a poster that reads "FUC_ YOU, MICHAEL MOORE" with crosshairs replacing the Os, and the "K" strangely missing from the first word (Why bother censoring yourself when you're already going all-out?). She also autographed the poster.
But, wait, Sarah Palin doesn't like Michael Moore? Stop the presses!!!
For those curious, the man to the left is Medal of Honor recipient Sgt. Dakota Meyer, who also posted another picture of the same moment to his Facebook, asking fans to make it go viral:
On the surface, this photograph seems rather innocuous. But with Palin constantly teasing the possibility that she will one day, maybe, possibly run for office, that's when you realize a picture like this shows just how poorly she thinks of optics.
In a political culture where every public and private decision becomes fair game as campaign fodder, it's probably not the brightest decision to so openly endorse a poster like that. (Not that the famously "rogue" Palin really cares, seeing as her personal life has been heavily scrutinized for political purposes since summer 2008.) But having been put through the ringer by the media for her infamous "crosshairs" image after the 2011 Gabrielle Giffords shooting (however unjustified), you'd think she'd be more cautious.
With all that in mind, our former colleague Noah Rothman succinctly summed up her problem:
She can't even pretend to be serious about 2016. RT @AndrewKirell: This just came into our tips bin… lol pic.twitter.com/deULUY3ipX

— Noah Rothman (@NoahCRothman) January 23, 2015
[Images via Facebook]
— —
>> Follow Andrew Kirell (@AndrewKirell) on Twitter
Have a tip we should know? tips@mediaite.com