'You Can Find it On Grindr': Twitter Can't Stop Laughing at Trump's Tweet About 'EASY D'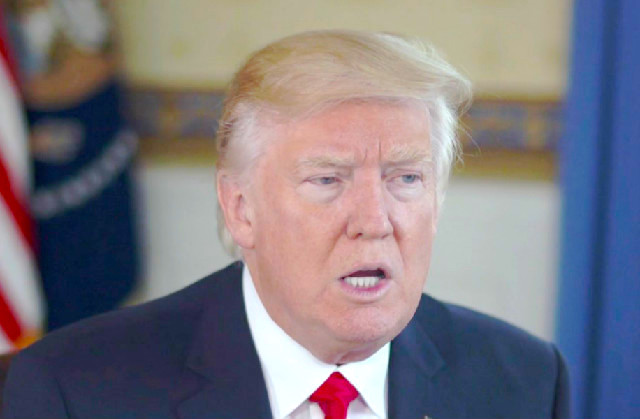 As he complained about the block on his executive orders again today, President Trump tweeted something that currently has Twitter aflutter with giggles and snickering.
Trump's immigration-restrictions were blocked by a federal judge late last week, and a speech he gave earlier today suggests that the challenge to his controversial policy is still a sore spot for him. As Trump tends to do, the president decided to get back on the Twitter machine to complain:
Big increase in traffic into our country from certain areas, while our people are far more vulnerable, as we wait for what should be EASY D!

— Donald J. Trump (@realDonaldTrump) February 8, 2017
While "EASY D" probably refers to an "easy decision" for his order to win its judicial appeal, the last two words of Trump's tweet have already become a major point of mockery across the Twittersphere.
Some people were just bemused and came up with their own jokes:
what the fuck? https://t.co/ZuzTwEogBu

— Matt Saccaro (@MattSaccaro) February 8, 2017
Aw yeah. Easy D! She lived down the street from me in high school. https://t.co/bUUJrmJtAw

— Ben (@BenHowe) February 8, 2017
I've instructed my staff that I expect to be called "Easy D" for the remainder of this week. #chillin https://t.co/wpKtH9RuEp

— Jim Himes (@jahimes) February 8, 2017
Easy D was my DJ name back in the 80's

— Jim Acosta (@Acosta) February 8, 2017
Others thought Trump might've been trying to get in touch with his West Coast gangsta rap side:
Perhaps "Easy D" is a typo? Maybe he meant Eazy-E? Specifically, this verse? https://t.co/m10t8iIUwL https://t.co/KwjM11c1AB

— Noah Shachtman (@NoahShachtman) February 8, 2017
Presidents Wit Attitudes https://t.co/Y3MfxAwNYc

— Mike Madden (@MikeMadden) February 8, 2017
Easy D was my favorite member of CWA (Crackers With Attitude)

— john r stanton (@dcbigjohn) February 8, 2017
He's known as Easy D now. ? pic.twitter.com/q8zqHMCIoE

— Diane N. Sevenay (@Diane_7A) February 8, 2017
And then, there were those who found Trump's words to be weirdly sexual:
Dude, if you want easy D, you can find it on Grindr. https://t.co/RiKdNVEOB7

— Josh Barro (@jbarro) February 8, 2017
"easy d" is an asian mother's worst nightmare

— Tina Nguyen (@tina_nguyen) February 8, 2017
Gay Twitter is done for the day.

— Chris Geidner (@chrisgeidner) February 8, 2017
Just think: somewhere right now, two White House staffers are discussing how to tell the President of the United States what "Easy D" means

— David Mack (@davidmackau) February 8, 2017
Hey, Dum-Dum. Ask a grownup to show you what "EASY D" means at the urban dictionary websites. #ClownPresident https://t.co/K3azqf5jcc

— Keith Olbermann (@KeithOlbermann) February 8, 2017
Looking for that Easy D pic.twitter.com/3lDd8mY2yz

— Andi Zeisler (@andizeisler) February 8, 2017
"Waiting for easy D" is the chapter of my memoir that's devoted to my college years https://t.co/qWDZNCbQSF

— Charlotte Wilder (@TheWilderThings) February 8, 2017
Someone is missing lunch while earnestly pounding out "Why All Your Easy D Jokes Play Right Into Trump's Hands." Condolences to that guy.

— Mark Harris (@MarkHarrisNYC) February 8, 2017
Please, please someone ask Sean Spicer what Trump meant by "easy D," just for the inevitable SNL parody.

— Paige Lavender (@paigelav) February 8, 2017
TFW you're waiting on what should be easy D pic.twitter.com/L3poAYEk7r

— Patience (@payshhh) February 8, 2017
From our own Alex Griswold:
Trump wants federal judge to give him the D, and he wants it NOW https://t.co/xb7rVpx2Kk

— Alex Griswold (@HashtagGriswold) February 8, 2017
[Image via screengrab]
— —
>> Follow Ken Meyer (@KenMeyer91) on Twitter
Have a tip we should know? tips@mediaite.com