'You Don't Have the Balls': Univision Host Recounts Confrontation with Congressman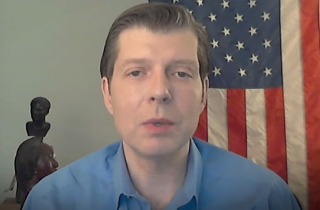 A Univision host wrote today about an incident in which, he claims, an angry member of Congress confronted him at the airport to harangue him for what he apparently said about this congressman regarding immigration, even telling him "you don't have the balls."
Fernando Espuelas wrote on The Huffington Post today about how a member of Congress (he identified neither his name nor his party) told him, "Your criticism of me on immigration is wrong, unfair and dishonorable."
This member of Congress apparently explained to Espuelas that he just doesn't understand how the legislative process works and accused him of harboring a secret agenda. Just look at this exchange:
"You want to run against me!"

I had to laugh. "I'm not running against you. People call my show to ask if I'm running, but I'm not."

Congressman Larry smiled broadly and said, "Do it. I welcome you with open arms. Try it. You want to, but you won't. You know why?"

"Yes," I said. "Because I'm never running for office."

"No," he said with a smile, as if he had thrust his sword at me and hit a particularly sensitive area of my body. "You won't run because you don't have the–." At this point he drew a circle in the air, as if he were showing me the size of a particularly large Krispy Kreme doughnut. "Yes," he said, "you don't have the balls."
Espuelas argues that Congress shouldn't be given sympathy because they're trying their hardest on immigration just… darn the process! After all, he puts it, "Doctors who routinely kill their patients on the operating table, don't get a mulligan."
You can read Espuelas' full post here.
[image via screengrab]
— —
Follow Josh Feldman on Twitter: @feldmaniac
Have a tip we should know? tips@mediaite.com
Josh Feldman - Senior Editor