"Young Gun" Eric Cantor Faces Both Tea Party And Democratic Protesters At Book Signings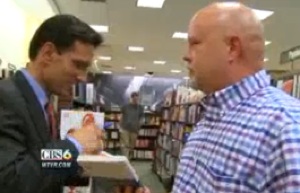 Rep. Eric Cantor of Virginia has been touring the country to promote his new book Young Guns: A New Generation of Conservative Leaders (watch the book's epic YouTube trailer here). But as ThinkProgress reported, Cantor can't even sign his book at Barnes & Noble without encountering protests from both Tea Party conservatives and Democratic activists.
"Gimme a debate," demanded Cantor's sign-holding Democratic opponent Rick Waugh, before explaining, "He will not debate us."
But while Waugh was demonstrating from the sidewalk, the Tea Party-backed candidate Floyd Bayne confronted the congressional Republican to his face.
"Mr. Cantor," Bayne said, as Cantor signed a copy of Young Guns for him. "I'm wondering when you're going to debate us, partner. Give the people a chance."
Bayne later told news cameras his qualms with the congressional Young Gun's claim that he's bringing the Republican Party closer to its roots:
[Cantor] voted 96% of the time with George Bush's agenda, which grew the federal government and created the biggest deficit in the history of this country — until Obama took office.
In what turned into something of a postmodern political debate, Cantor later countered Bayne's argument to news cameras as well:
There's no question that we learned our lessons. … We spent too much money, and we abandoned some of the principles that Republican Party stands for — that's limited government, that's a focus on equal opportunity for all by allowing the private sector to grow and create jobs.
Some members of the private sector, however, didn't care for this impromptu debate. When a cameraman asked one customer how many copies of Young Guns she had had signed, she said, "Four, with my husband."
Have a tip we should know? tips@mediaite.com