'You're a Nasty Guy': Trump Lashes Out at Reporter Pressing Him on Donations to Vets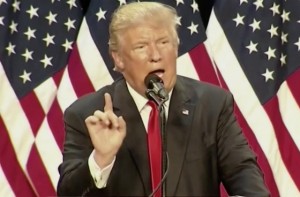 Donald Trump's fundraiser for vets has been the subject of a lot of questions due to a lot of that supposed $6 million being unaccounted for. The Trump campaign finally acknowledged this week that they raised only about $4.5 million, attributing the discrepancy to big donors pulling out at the last minute.
But remember, Trump himself declared at that rally (as linked above) that he raised $6 million. So keep that in mind as you read the following exchange from a new interview he did with The Washington Post:
"For the most part, I think they all came through," he said. "Some of them came through very late."

Trump also said he had never actually promised that the fundraiser had raised $6 million. "I didn't say six," Trump said.

In a video of the event, Trump tells the crowd at the end, "We just cracked $6 million! Right? $6 million."

When asked about that quote, Trump said, "Well, I don't. I don't have the notes. I don't have the tape of it."
But if you didn't notice, the questions about Trump's donations to vets picked up a lot of steam this week. In fact, Trump himself seems very pissed off at people questioning his lack of generosity, tweeting these out last night:
While under no obligation to do so, I have raised between 5 & 6 million dollars, including 1million dollars from me, for our VETERANS. Nice!

— Donald J. Trump (@realDonaldTrump) May 24, 2016
Much of the money I have raised for our veterans has already been distributed, with the rest to go shortly to various other veteran groups.

— Donald J. Trump (@realDonaldTrump) May 24, 2016
Amazingly, with all of the money I have raised for the vets, I have got nothing but bad publicity from the dishonest and disgusting media.

— Donald J. Trump (@realDonaldTrump) May 24, 2016
The Post scrutinized the donations and found that $3.1 million has been distributed (and that doesn't include the $1 million Trump said he's putting up himself). But after making various inquiries about it, Trump then fulfilled it.
He explained the delay by saying, "You have a lot of vetting to do."
And then, when reporter David Farenthold asked him a follow-up, Trump apparently blew a gasket:
When asked if the Monday donation was in response to questions from the news media, Trump said: "You know, you're a nasty guy. You're really a nasty guy. I gave out millions of dollars that I had no obligation to do."
[image via screengrab]
— —
Follow Josh Feldman on Twitter: @feldmaniac
Have a tip we should know? tips@mediaite.com
Josh Feldman - Senior Editor