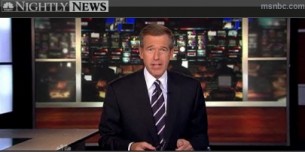 "Tonight a new era begins on this broadcast," said NBC Nightly News anchor Brian Williams five years ago this night, as he officially took over the anchor chair from Tom Brokaw. Since then he has been to Iraq, Afghanistan, New Orleans, Waveland, Banda Aceh, Germany, Hong Kong and Israel in the line of duty, often wearing this shirt. He's also covered news at home, obviously, taking him from storm-ravaged New Orleans to fire-ravaged California, not to mention a hugely historic presidential election — all through probably the most tumultuous time in media since Chet Huntley and David Brinkley wished each other goodnight.
Tonight Williams thanked his viewers for sticking with him through all that (and through the Charlie Gibson challenge, which was close at times!), and looked back on those five years and what they meant. He also said he looked forward to many more such anniversaries, though going forward he'll be facing challenges by Diane Sawyer along with current rival Katie Couric…as well as all of their nemesis, the Internet.
Here is Williams' anniversary thank you:


Here is NBC's congratulatory video, showing him being all newsy n' stuff:
…and here are some of the more important thank-yous: from loyal viewers. Those who have read the Daily Nightly and have taken the time to read down through the comments will discover possibly one of the nicest commenting communities on the Internet. Seriously. Lisa McNeil from Alpharetta Georgia is particularly famous for wishing Brian, Richard Engel, Lester Holt, and pretty much everyone who has worked at NBC ever a heartfelt "PEACE" after every broadcast, and a small roster of regular commenters are now buddies in every comments section on the DN…and now on Twitter, which I discovered to my delight a few weeks ago. I asked a few of them if they had any wishes for BriWi to mark his anniversary, and this is what I got (don't worry, BriWi, it's safe to read them):
Dear Brian,

Congrats on 5 years in the big chair! With all the opinions that are spouted on cable news and online, I appreciate your objectivity. I'm grateful that there's still a place where I can get my news without some sort of spin. Your warmth and personality add to the many reasons I choose to watch Nightly News every evening. Wishing you continued success and many more years in the anchor chair.

Lori (AKA Lori ~ NKY from my Daily Nightly posts)
and…
Dear Brian,

Congratulations on five years in the anchor chair! I remember the passing of the torch well – such big shoes to fill – you must have been intimidated! It sounds like a cliché, but you have truly made "Nightly" your own. I watch every day – even record it, if I know I will not be home in time. My 70-year-old mother watches you, too. She thinks you're suave – an adjective previously only reserved for the late, great Peter Jennings (whom you sort of resemble). We appreciate both the humanity you bring to your work (New Orleans, post Katrina; Iraq; Afghanistan) as well as the humor – whether on the broadcast, or on "The Daily Show," or "SNL." You're our permanent 6:30 date. Cheers to you, and to many more anniversaries.

A loyal viewer and "Daily Nightly" devotee,

Laurel Noel Potyen, a.k.a. "lnp, 38, leonardtown, maryland, usa"
…and, with years ahead in the demo:
Dear Mr. Brian Williams,

I want you to know that you made me realize what I want to do when I "grow up", and also that that very fact scares me to death – or more so, it makes me extremely nervous because I'm actually pretty shy.

I want to send my deepest congratulations and thanks for all of the amazing work you and your colleagues have put into NBC Nightly News these past five years. So much has happened in those years, including a visit to my own town that all of us wish had been in completely different circumstances. So many sad stories over the five years you've been invited into our living rooms across the country. But in those difficult times, you've always been there for us.

You're my first inspiration into journalism, and with the close relationship you have with your viewers, I also feel like you're my very first mentor.

On behalf of all of your wonderful viewers, thank you again for all that you do! Congratulations, and here's to five (or ten?) more years!

With love from your young loyal viewer,
-Cary (or Cary Skelton 20, Roanoke, Virginia)"
…and finally, Lisa McNeil from Alpharetta, Georgia:
Dear Mr.Williams,

CONGRATULATIONS on FIVE YEARS WITH NBC Nightly News! I have been a loyal viewer of NBC Nightly News and my parents always watched NBC Nightly News. I think you have done a wonderful job anchoring for these five years and have watched you since you began anchoring. You are so deserving of all the awards and recognition and you have great people working with you. I have learned so much about you through your blog the "Daily Nightly" and you have made me laugh so much at your great dry humor. You have an AWESOME sense of humor! It has been wonderful!

You coverage of Karina,Iraq,Afghanistan and many other reports is just remarkable and your really bring the best to every story you cover. I look forward to you broadcast everynight! And I look forward to many,many more years of great broadcasts.

Thank You and My Deepest Congratulations to You!

As I always say at the end of all my comments,

Peace to You and to All!

Lisa McNeil
Alpharetta,Georgia
So there you have it! Five years of BriWi, including SNL, 30 Rock, and about a zillion TV appearances. Probably in five year's time Bruce Springsteen will be opening for him. I hope he can sing.

Update: Here is another, longer video collection of highlights from Williams' career. Includes Bono!
Have a tip we should know? tips@mediaite.com