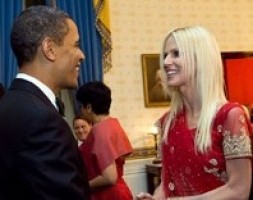 The saga of would-be reality stars and accused White House Party Crashers Michaele and Tareq Salahi continues to unroll slowly, as NBC fortuitously scores scoop after scoop. The latest: The Salahis' attorney provided The Today Show with copies of their emails with Defense Department White House Liaison Michele Jones. If this is the bombshell evidence they promised to bring Matt Lauer in their meager Today interview Monday, they're in trouble. These emails are all smoke, no  gun.
Given the very best possible interpretation, the emails show that Michelle Jones was working to get the Salahis tickets to the arrival ceremony prior to the dinner, but explicitly tells them that the dinner has been full up for months. The emails leave open the possibility, however unlikely, that the Salahis might attend the arrival if tickets became available.
That leaves open the possibility that the couple passed through the first checkpoint as legitimate attendees of the arrival ceremony. I asked the White House about the arrival ceremony specifically, and a White House official told me that "the Salahi's were not cleared to enter the White House grounds for any reason."
Michele Jones never confirms either event for the couple in the emails, except to accept their thanks the following day.
The crux of their defense, then, is that they went to the White House just to check if Jones had managed an 11th-hour miracle, and they say in a thank-you email that they were, indeed, on the list. The email conveniently explains that their cellphone battery had died, so they wouldn't have received any calls telling them not to go.
The White House and the Secret Service have now fairly definitively ruled out every scenario that could vindicate the Salahis. While their future as reality TV stars may be bright, it looks like they could face serious trouble for what looks more and more like a ridiculous security breach.
Have a tip we should know? tips@mediaite.com