'You're Welcome': Bill Maher Says Milo's Real Time Interview Led to His Downfall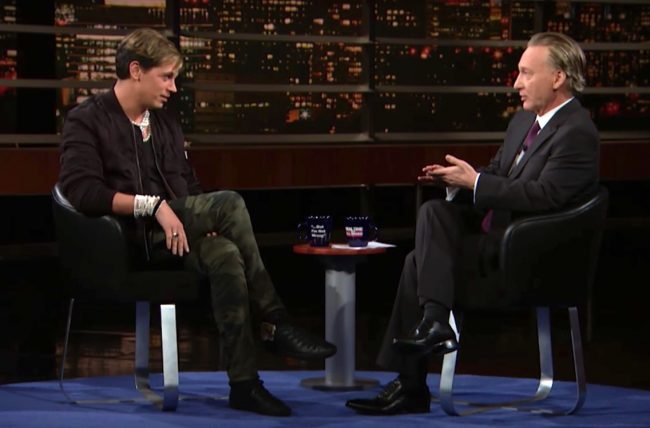 Bill Maher says that his interview last week with Milo Yiannopoulos was a major factor in the provocateur's fall from grace.
Maher's Real Time interview was a subject of both intrigue and criticism, due to offering Yiannopoulos a platform while engaging him on rampant political correctness and other subjects. In the days since, Yiannopoulos has resigned as a tech editor for Breitbart amidst the fallout from a resurfaced video where he seemed to defend pedophilia.
When asked for his reaction from the New York Times, Maher said that even though he wasn't looking to have Yiannopoulos "removed from society," the HBO host deserves thanks for the aftermath:
What I think people saw was an emotionally needy Ann Coulter wannabe, trying to make a buck off of the left's propensity for outrage. And by the end of the weekend, by dinnertime Monday, he's dropped as a speaker at CPAC. Then he's dropped by Breitbart, and his book deal falls through. As I say, sunlight is the best disinfectant. You're welcome.
Maher went on to question whether Yiannopoulos's antics are capable of real harm to society, and he also defended himself from those who say he didn't do enough to challenge the pundit.
"It's not my job to hold him accountable to everything he's ever said or done," Maher said. "I had eight minutes with him, on the show itself. Sorry I don't have time to go over everything everybody else would want to do."
[image via screengrab]
— —
>> Follow Ken Meyer (@KenMeyer91) on Twitter
Have a tip we should know? tips@mediaite.com