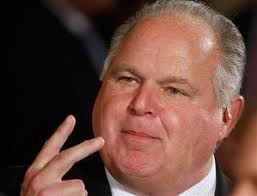 Rush-roh! The fallout from embattled conservative radio giant Rush Limbaugh's verbal assault on Georgetown law student and activist Sandra Fluke just got real. Online behemoth America Online has just announced that they are suspending all advertising from Limbaugh's show, the largest company to do so since the controversy exploded late last week. The announcement is a bad sign for Limbaugh, whose less-than-convincing apology doesn't seem to be working.
The announcement from AOL, via Facebook:
At AOL one of our core values is that we act with integrity. We have monitored the unfolding events and have determined that Mr. Limbaugh's comments are not in line with our values. As a result we have made the decision to suspend advertising on The Rush Limbaugh Radio show.
Limbaugh has weathered controversies in the past, but this one is following a scary trajectory, if you're Rush Limbaugh. Quick advertiser pullouts prompted a rare (if unconvincing) apology over the weekend, an indication that the radio giant is hearing the footsteps behind him. The AOL announcement is significant beyond any financial strain it could put on Limbaugh or his syndicators. Such a high-profile announcement will receive huge media coverage, adding to the impression that Limbaugh is in big trouble, and emboldening those who want him off the air.
It will also intensify the glare on companies currently advertising with Limbaugh, or who may be thinking about it. It may also make other pundits think twice about how they speak on issues of women's health care.
Have a tip we should know? tips@mediaite.com