Tucker Carlson and Megyn Kelly's Conspiracy Theories Show How Unhinged Right Wing Media Has Become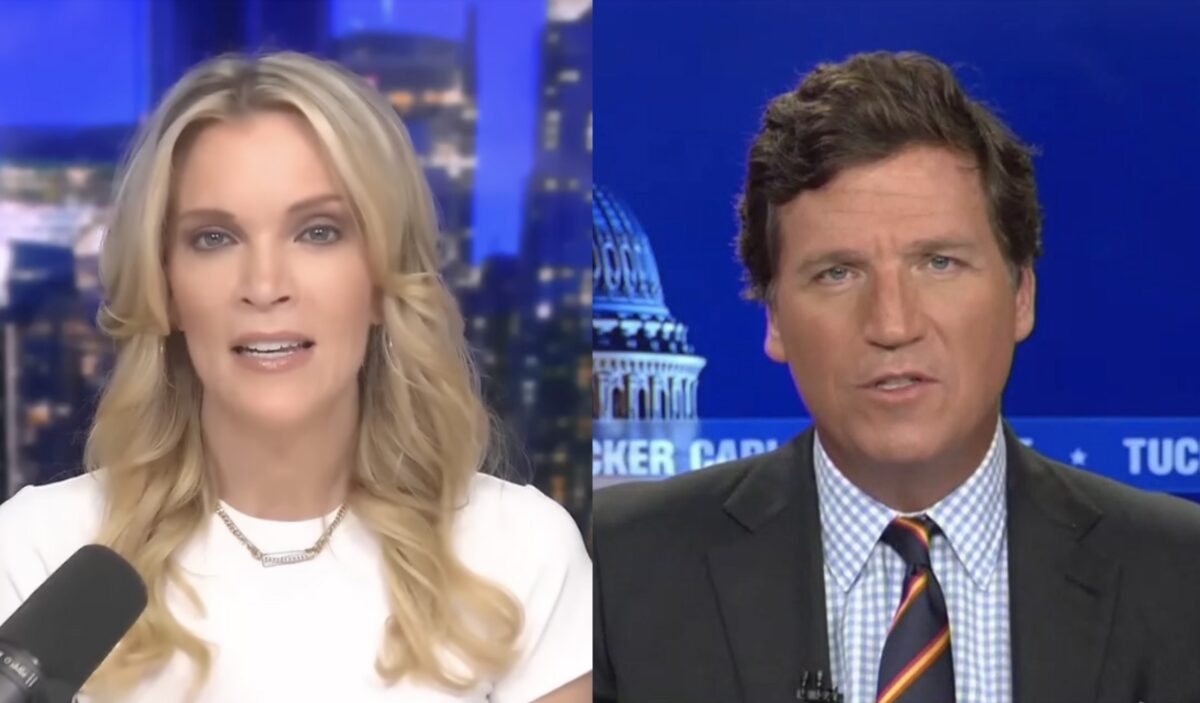 Tucker Carlson and Megyn Kelly have a lot in common. Not only are they both former Fox News hosts, but each has struck out on their own, producing videos for their audiences on digital platforms.
They have something else in common, which was put in stark relief in the past few days. These former cable news personalities have promoted unhinged and irresponsible conspiracy theories, revealing just how deeply irresponsible right-wing media has become. It's part of a more significant — and alarming — trend of political commentators prioritizing building an audience over anything that remotely resembles responsible journalism.
Since leaving Fox News last spring, Carlson has moved to Twitter, where he has occasionally made news with interviews with the likes of former President Donald Trump and Devon Archer. There have been considerable missteps along the way, including the regrettable decision to lend his platform to alleged sex trafficker and proud misogynist Andrew Tate, which led to a raft of criticism from even Carlson's most loyal fans.
But that pales in comparison to his most recent interview with a man who claims to have had sex with former President Barack Obama in 1999.
This is not a new story. The man, Larry Sinclair, made these same claims publicly in 2008 (he also claimed to have done cocaine with Obama, and claimed Obama smoked crack). When this story came out 15 years ago, it was widely ignored, and for good reason. First of all, Sinclair is a literal con man with a very long rap sheet of convictions for crimes of deceit and fraud. Moreover, the story made very little sense, and there was scarce evidence beyond the man's claims that Obama was either bisexual or a crack addict.
But ever eager to stir the pot, Carlson seized on the opportunity to interview him — not to find out any truth about the world but in a desperate bid for continued cultural relevance, outrage, and meaningless Twitter impressions.
And then there is Megyn Kelly, the lawyer-turned-broadcaster long admired for the uncompromising style that made her one of the top-rated hosts on Fox News during Trump's rise to office. After leaving Fox, Kelly had an unsuccessful stint as a morning show host at NBC before following the lead of her fellow former Fox colleagues like Glenn Beck and Bill O'Reilly by carving out her own digital network and hosting a show on SiriusXM.
Something has changed in Kelly's brand since her departure from cable news. In an apparent bid to cultivate a loyal audience, Kelly has developed a bigger interest in openly promoting conspiracy theories, particularly of the right-wing variety. Mediaite's Sarah Rumpf documented the many examples of Kelly's conspiracies earlier this year.
Kelly frequently appears on the conservative network Newsmax for interviews with another former Fox News host, Eric Bolling. Earlier this week, she suggested that the "Obamas are already running the government and that there is some sort of shadow puppet situation going on that they are controlling" before insisting that conservatives hate Michelle Obama because she doesn't like America. You can watch that clip via Justin Baragona:
Now, Kelly would likely defend her suggestion here by pointing out it's what many people believe! which is, of course, an irresponsible idea to promote without any evidence to support it.
But responsibility to the truth is not the priority for Megyn Kelly or Tucker Carlson. Their goal, like so many right-wing blogs and several conservative cable news networks, is to give the people what they want, even if what they want is not the truth. Perhaps the most brazen — and most costly example — of this rot in news was exposed by the defamation suit against Fox News by Dominion Voting Systems, which the network had to settle for $787.5 million. The Ray Epps defamation lawsuit against Fox, filed in response to another Tucker Carlson conspiracy theory, looms.
Carlson made a very lucrative living by openly lying to his viewers. Kelly appears to be, unfortunately, taking a cue from the very same playbook. The effects of this narcissistic ploy of putting self-promotion over truth and accuracy have real consequences.
Just look at this recent CNN poll regarding Trump's criminal indictments:
The results are shocking. Trump is facing 91 separate charges of felony crimes. Not all of these charges are created equal, to be precise. The charges brought forth by Manhattan DA Alvin Bragg, in particular, have been criticized by even opponents of Trump. The other charges, including two indictments related to the horrifying attempt to steal the 2020 election and the deadly riot at the Capitol that resulted from that plot, should be enough to disqualify Trump from public office forever. Many of his former cabinet members — and even his own vice president — have made clear he's unfit.
Unfortunately, promoting or defending Trump is too valuable — literally worth too much money to pundits — who prioritize their career advancement over any journalistic principles.
Both Kelly and Carlson have worked hard to undermine public trust in the indictments. Kelly has openly talked about "indictment fatigue" and why people don't trust the raft of indictments Trump has faced. Meanwhile, Carlson has fear-mongered about a potential "assassination" of Trump, seeing the former president as more of a victim of "permanent Washington" than a guy who committed crimes and is now being charged for them.
Right-wing media has goofily but successfully convinced its viewers — the vast majority of which are Republican voters — that Trump is a victim of "two tiers of justice" driven by his political opponents in the Department of Justice. It's as absurd a theory as you will find, but if you repeat it enough, it makes sense.
So often, the excuse for repeating these absurd claims, or those of the Obama sex/crack expert or shadow puppet government theorists, is that people are making these allegations, and the intrepid journalist is just asking questions.
What happened to the conservative conviction, alive and well during the Me Too movement, that allegations are not to be believed without responsible scrutiny? Kelly and Carlson are smart enough to know better. Given the size of their platforms, prioritizing personal promotion over truth will do long-term damage. That's disgraceful for both.
This is an opinion piece. The views expressed in this article are those of just the author.
Colby Hall - Founding Editor