Sen. Markey Accuses Sen. McConnell Of Sabotaging Green New Deal…By Bringing it to Senate Floor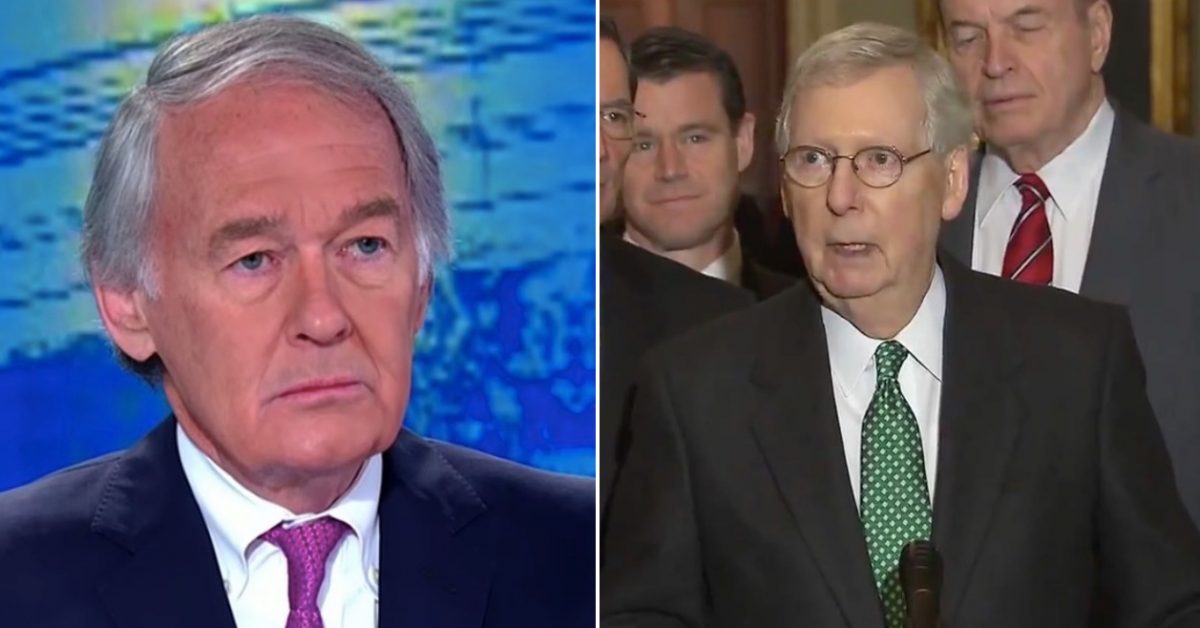 Senator Ed Markey (D-MA) accused Senate Majority Leader Mitch McConnell (R-KY) of trying to "sabotage" and "silence" voters by bringing the Green New Deal, which was also proposed by Rep. Alexandria Ocasio-Cortez (D-NY), to the Senate floor to vote on.
"I've noted with great interest the Green New Deal. And we're going to be voting on that in the Senate. Give everybody an opportunity to go on record and see how they feel about the Green New Deal," McConnell told reporters on Tuesday.
In response, Markey said it was just a tactic to "sabotage the movement we are building" on climate change:
Don't let Mitch McConnell fool you: this is nothing but an attempt to sabotage the movement we are building. He wants to silence your voice so Republicans don't have to explain why they are climate change deniers. McConnell wants this to be the end, this is just the beginning. https://t.co/GUxJ5HG2jb

— Ed Markey (@SenMarkey) February 12, 2019
This isn't a new Republican trick. By rushing a vote on the #GreenNewDeal resolution, Republicans want to avoid a true national debate & kill our efforts to organize. We're having the first national conversation on climate change in a decade. We can't let Republicans sabotage it.

— Ed Markey (@SenMarkey) February 12, 2019
The rollout of this controversial resolution was made more confusing by a now deleted FAQ that included the following details:
"Upgrade or replace every building in US for state-of-the-art energy efficiency."
"Totally overhaul transportation by massively expanding electric vehicle manufacturing, build charging stations everywhere, build out highspeed rail at a scale where air travel stops becoming necessary, create affordable public transit available to all, with goal to replace every combustion-engine vehicle."
"Build on FDR's second bill of rights by guaranteeing: A job with a family-sustaining wage, family and medical leave, vacations, and retirement security."
"Economic security for all who are unable or unwilling to work."
While the "unwilling to work" portion, in particular, has been clarified, the resolution does include enough rather enormous goals that critics deem to be unrealistic, incredibly expensive or both.
Have a tip we should know? tips@mediaite.com