Trump Calls on Bloomberg to Apologize for Violating 'A Firm Off the Record Statement'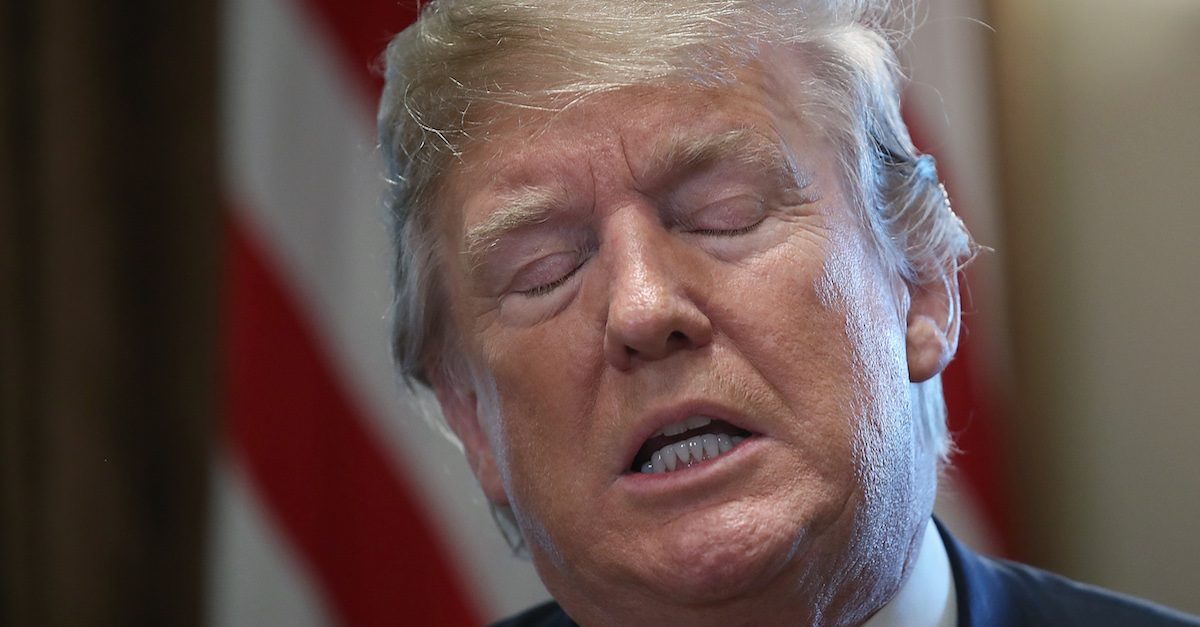 Late Friday night, President Donald Trump called for Bloomberg to apologize for violating "a firm off the record statement."
"Still can't believe that Bloomberg violated a firm OFF THE RECORD statement," Trump wrote. "Will they put out an apology?"
Still can't believe that Bloomberg violated a firm OFF THE RECORD statement. Will they put out an apology?

— Donald J. Trump (@realDonaldTrump) September 1, 2018
Trump was referring to a story published by the Toronto Star on Friday reporting on his off the record remarks made to a Bloomberg reporter during an Oval Office interview on Thursday.
In those remarks, Trump said he wasn't willing to compromise with Canadian Prime Minister Justin Trudeau's government on NAFTA.
The Toronto Star's Daniel Dale is not commenting on how he obtained the quotes from that interview.
I won't be commenting on the source of the leaked quotes.

— Daniel Dale (@ddale8) August 31, 2018
Dale also wrote in the report, "Bloomberg agreed to Trump's request to keep the comments off the record. But the Star, which obtained the quotes from a source, is not bound by any promises Bloomberg made to the president, and it published the quotes after they became part of the critical negotiations."
Despite his calls for an apology,Trump has not disputed the contents of the Star report resulting from his remarks and even went so far as to confirm it, saying earlier on Friday during a Securing Americans' Retirement event in Charlotte, "in the end it is okay, because at least Canada knows how I feel. So it's fine. It's fine. It's true."
He also confirmed it in a tweet earlier the same day.
Wow, I made OFF THE RECORD COMMENTS to Bloomberg concerning Canada, and this powerful understanding was BLATANTLY VIOLATED. Oh well, just more dishonest reporting. I am used to it. At least Canada knows where I stand!

— Donald J. Trump (@realDonaldTrump) August 31, 2018
During his Charlotte speech, however, the president made it clear that while he might have made the remarks, he saw the off the record statement as a "term of honor" and railed against the "fake news" for not honoring the agreed upon terms.
"It said off the record, I said something strong, that is my belief," Trump said. "They violated it and they said they were violating it. It is unbelievable what is happening with the fake news. It is unbelievable. When you say off the record, that is a very––it is not a legal term but it is a term of honor. So when I say off the record, here's the story in order really to save time, I don't want to waste a lot of time, and then they say, they actually printed my off the record."
[image via Getty Images]
Have a tip we should know? tips@mediaite.com