'Blood is on Trump's Hands': Roland Martin Rips President Over Charlottesville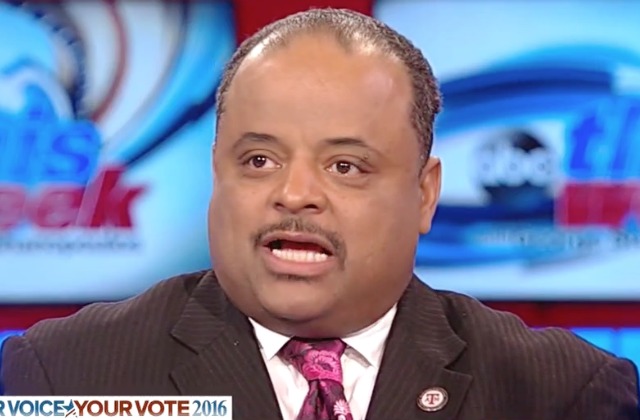 Roland Martin penned a blistering editorial published in The New York Daily News on Monday slamming President Donald Trump for his statements in response to the Charlottesville terror attack.
Trump has taken bi-partisan criticism for his response to the attack, in which a white supremacist plowed his car into a crowd of protestors, killing one person and injuring 19 others.
In a televised statement Trump condemned "violence on many sides," but declined to make reference to white supremacy, despite that being the obvious motivator for the act of terror.
Martin, who has never shied away from criticizing Trump, wrote in his editorial that in the aftermath of tragedies we typically look to the president to offer "words of consolation and healing to salve the collective wounds of our pain."
"Yet when shock, pain and tragedy befell America on Saturday afternoon in Charlottesville, Va., the President of the United States was missing in action, sheltered at his golf course in New Jersey, oblivious to the pain and agony we all witnessed on television screens across the country," Martin wrote.
He noted that when acts of Islamic terror occurred in Paris and London, Trump was hasty to explicitly label the attacks — but in the case of Charlottesville, the president was "as silent as a sinner in church."
And when Trump finally gave his televised statement, Martin noted, "he further embarrassed himself, his administration and the nation with one of the most soulless, gutless, shameful, and despicable statements ever uttered by an American President after a tragedy."
Martin continued:
We expect our presidents to be moral leaders. But Trump has shown he is an immoral leader. His childish, shameful antics on Twitter have done nothing to show that he understands the power he wields, and is more concerned with feeding his massive ego. At no times has he delivered a speech to the nation that we can all applaud. His dark and dangerous inauguration speech revealed exactly who he is. And so did his actions on Saturday.
Martin concluded that Trump's courting of bigots from his birther days, through to the 2016 election and his presidency means "he must own the tragedy in Virginia."
"Blood is on Trump's hands," he wrote.
[image via screengrab]
—
Follow Aidan McLaughlin (@aidnmclaughlin) on Twitter
Have a tip we should know? tips@mediaite.com
Aidan McLaughlin - Editor in Chief