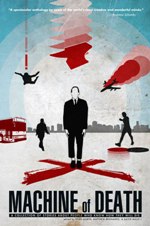 In a shocking turn of events, Glenn Beck got a little angry on his Wednesday night show. His enemies for the evening? A self-published sci-fi anthology called Machine of Death, Keith Richards and what Beck labeled as our "culture of death."
It seems that Beck's newest book Broke raced up the Amazon.com charts when it was released on Tuesday but was denied top spot billing by Machine of Death, an illustrated collection of short stories. To add insult to injury, Keith Richards' memoirs occupied the second slot, forcing Broke to #3.
This slight did not sit well with Beck and he took his grievances to the airwaves. The Atlantic Wire has a transcript of the rant:
And I want to tell you that, um…our books are ALWAYS #1. And I find it REALLY fascinating, FASCINATING, that if you go to Amazon.com, Broke is number THREE. And the two books that are ahead of it — one is Keith Richards' Life, which is getting a TON of — you know, that's everywhere.

But this is a book about, you know, how he snorted his father's ashes, after death … So that… 'culture of death.' And it's an escape into the past, of, you know, the Woodstock stuff.

And then, the #1 book — TODAY, at least — is Machine of Death. And it's a — collected stories about, you know, people who know how they're gonna die. Haowww!

So you have DEATH — I know it's called Life, but what a life it is, really! It's a culture of death! OR, 'How do we restore ourselves?'

These are the — this is the left, I think, speaking. This is the left. You want to talk about where we're headed? We're headed towards a culture of death. A culture that, um, celebrates the things that have destroyed us. Not that the Rolling Stones have destroyed us — I mean, you can't always get what you want. You know what I'm saying? Brown sugar. I have no idea what that means.
It sounds like someone on Team Beck was interested in Machine of Death; author David Maki tweeted yesterday, "Glenn Beck's producers have emailed me for copies of #MachineofDeath." Perhaps they can also ask Richards' for a few copies of Life and figure out what "brown sugar" means.
But all is right in the Beck world now – he sits at #1, while Machine of Death is #6. We'll see how the books fare when the New York Times Bestsellers List comes out next week.
Have a tip we should know? [email protected]