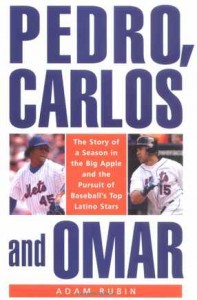 When Mets general manager Omar Minaya called a press conference yesterday to announce the firing of Tony Bernazard, the team's VP for player development, New York Daily News reporter Adam Rubin was bizarrely dragged into the story when Minaya alleged that "for the past couple of years," Rubin had been "lobby[ing] for a player development position," and might have wanted Bernazard out of the picture so he could get the job himself. Rubin, you see, had written a series of investigative pieces the week before that hammered Bernazard time and time again. As Deadspin put it, Rubin's "bird-dogging of Bernazard's behavior in the Daily News more or less forced the Mets to fire him."
In a Daily News column this morning, Rubin acknowledged that he had spoken with Mets COO Jeff Wilpon about the feasibility of a baseball beat reporter getting an administrative job with a team, but he denied that he was gunning for a job with the Mets. He also backed up his coverage of Bernazard:
The minor-leaguers Bernazard oversaw lived in fear of losing their jobs because they were constantly told they were disposable. How do I know? They told me.

Their parents told me. Others in uniform at the various levels of the Mets told me. Scouts who observed instances told me. Minaya did not identify one piece of inaccurate information in any of The News' stories.

Monday, after learning about what had happened at the press conference, one of the whistleblowers … summed it up best: "You didn't get Tony fired. Tony did. Don't let them take the focus off that."
Everyone comes out of this looking bad. Bernazard is no one's martyr; Minaya, for his part, half-apologized for the unprofessionalism of his press conference, saying that "that was not a proper forum for me to raise those issues." But however sloppy it looked, it accomplished exactly what he wanted it to. Rubin not only comes out of things looking a little two-faced, but he was effectively forced off his beat: he said that he probably wouldn't be able to cover the Mets again until they switched GMs. Which was particularly ironic given that he had written a book that was in large part about Minaya just a few years before.
Political journalism is rife with potential conflicts of interest: Bill Kristol notoriously shilled Sarah Palin in his New York Times column and in the magazine he edits, The Weekly Standard, while he secretly gave her his political support behind the scenes. Gwen Ifill was widely criticized for agreeing to moderate the 2008 vice-presidential debate between Palin and Joe Biden despite the fact that her book, The Breakthrough: Politics and Race in the Age of Obama, was scheduled to drop on Inauguration Day and would presumably sell better if its titular hero was being sworn in. Top political reporters and pundits often have the clout to promote their ideas and opinions, and since politics is the business of clout, ideas, and opinions, they have a hard time staying out of the story by definition.
But in the context of sports journalism, the enmeshment tends to stay behind the scenes. People might think of sports reporters in terms of their ability to influence the betting line, but what goes unseen is the degree to which they need team management and management needs them. What goes into an article often results from a bargaining process, and too often the real news is buried in exchange for access. When Rubin didn't play by the rules, he got buried himself — but if he was asking the Mets COO for career advice, his hands are hardly clean.
Have a tip we should know? tips@mediaite.com