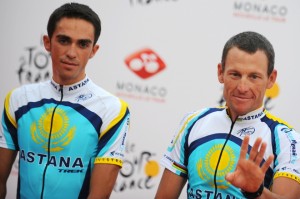 Lance Armstrong likes to use Twitter to tell his more than 1.5 million followers about what music he's listening to — Jeff Buckley, Bob Marley, Willie Nelson and Ryan Adams are some of his favorites.
He also likes to make jokes about the persistent anti-doping tests he must undergo as a 37-year-old racing the Tour de France, gunning for his eighth yellow jersey (and finishing third overall, the oldest rider to do so in three decades):

"Surprise" antidoping control here @ the hotel. #11 for this Tour. I'll consider it my appetizer b4 dinner" (2:30 PM, July 24th).
But yesterday, with le Tour on the books, Lance used his Twitter feed (which has a bigger circulation than the print edition of the New York Times, by the way) to call out his Astana teammate, and this years TDF winner, Alberto Contador for serving up some personal beef with Armstrong at a press conference on Monday.
hey pistolero, there is no "i" in "team". what did i say in March? Lots to learn. Restated (about 18 hours ago).
Seeing these comments from AC. If I were him I'd drop this drivel and start thanking his team. w/o them, he doesn't win (about 18 hours ago).
In the past, Lance has mostly used his feed to cheer Contador, even posting a picture of his 26th birthday cake. So what spurred on these less than friendly remarks, exactly? Turns out Contador had a few less than friendly remarks of his own regarding his much speculated upon relationship with Armstrong, which he shared at a news conference (so old school!):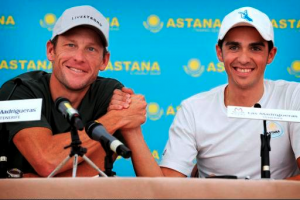 "My relationship with Lance is zero," Contador said at a news conference, one day after winning his second Tour. "He is a great rider and has completed a great race, but it is another thing on a personal level, where I have never had great admiration for him and I never will."
Maybe Lance is right: the language barrier is really what keeps them from being close. Contador hardly speaks Twitter at all, in fact. His only post: "Descansando en casa" (8:03 AM, March 17).
Have a tip we should know? tips@mediaite.com