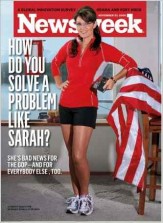 While we wait for Sarah Palin to activate her still dormant Twitter feed, and keep our fingers crossed that Barbara Walters' interview with Palin, beginning today, is slightly more hard-hitting than Oprah's was, we'll have to rely on the old Palin standby (UPDATE: Meacham responds below): Facebook.
Late last night Palin posted a response to Newsweek's cover of her (our thoughts on that here), which hit stands after her interview with Oprah had been taped. Here's what she had to say:
The choice of photo for the cover of this week's Newsweek is unfortunate. When it comes to Sarah Palin, this "news" magazine has relished focusing on the irrelevant rather than the relevant. The Runner's World magazine one-page profile for which this photo was taken was all about health and fitness – a subject to which I am devoted and which is critically important to this nation. The out-of-context Newsweek approach is sexist and oh-so-expected by now. If anyone can learn anything from it: it shows why you shouldn't judge a book by its cover, gender, or color of skin. The media will do anything to draw attention – even if out of context.
You know what, she's right. She is devoted to health and fitness — or as she told Oprah "sweat is my sanity" — and as Rachel Sklar noted yesterday during our liveblog Palin is a great example on physical fitness. Also, it's hard to argue with the idea that this nation does need to exercise more. So there's that. Next!
UPDATE: Jon Meacham responds to claims of sexism (via Politico)
"We chose the most interesting image available to us to illustrate the theme of the cover, which is what we always try to do. We apply the same test to photographs of any public figure, male or female: does the image convey what we are saying? That is a gender-neutral standard."
So yes? Since the theme of the cover struck us as fairly marginalizing and sexist, than absolutely Newsweek chose the best picture with which to illustrate this point.
Have a tip we should know? tips@mediaite.com