Pop Stars, Politicians And Pundits, Oh My: Presenting The 2011 Time 100 Nominees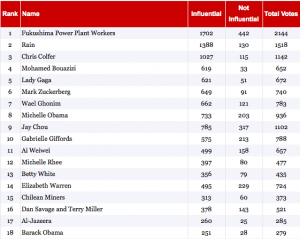 Time magazine's annual "Time 100″ list is live today, highlighting 2010's most influential people. Unsurprisingly, the list includes several big media names, proving once again that those who bring you the news continue to be quite adept at making the news. Some familiar names among those listed include radio personality, Fox News host, snazzy dresser and TheBlaze.com founder Glenn Beck and Arianna Huffington, who is currently looking to take her Huffington Post brand overseas. Gawker overlord Nick Denton also makes an appearance, as does Fox News president Roger Ailes and, of course, Oprah Winfrey, who recently launched her own network.
Congresswoman Gabrielle Giffords is also on this year's list of nominees – not only for her continued demonstration of strength and resilience in the face of tragedy, but also, we're sure, for the manner in which the hubbub surrounding the details of her attack have influenced the media's very tone and rhetoric in reporting on such tragedies.
Readers can vote now through April 12th on whether each person on the list is truly influential, with the eventual winner set to appear in the magazine's upcoming 2011 Time 100 issue.
As of this moment, the Fukushina 50 – the name given to the nearly 200 nuclear plant workers risking their lives to keep the plant's reactors from overheating – are neck-and-neck with South Korean pop star / actor "Rain" – who manages to rake in a huge number of votes nearly every year, to the point that Stephen Colbert has interviewed him about the phenomenon. Hey, the people have spoken!
Check out the list and tell us: Who do you think should not be on it?
h/t Time.com
Have a tip we should know? tips@mediaite.com