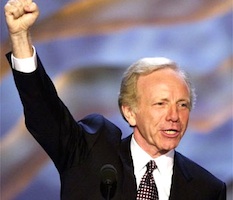 "He's the same old Joe who has been sticking it to Democrats on high-profile issues for two decades. What's changed is everybody else.
In our increasingly tribal politics, both sides are more demanding of ideological purity than they were when Lieberman came to the Senate in 1988."
—Washington Post columnist Dana Milbank, explaining the Democratic aversion to what he calls "the Liebermonster"
It's no great secret that Senator Joe Lieberman has enraged many liberals with his vocal, well-publicized threats to derail the health care bill under consideration. MSNBC lambastes Lieberman night after night; Wonkette calls him the "worst person in the history of the universe" (and that's one of the nicer things they call him); even Senator Al Franken vented his frustration with Lieberman by shooting him down in the Senate.
Dana Milbank's theory: Lieberman is just an old-school moderate, which is something today's hyperpolarized Senate can't handle.
"In our increasingly tribal politics, both sides are more demanding of ideological purity than they were when Lieberman came to the Senate in 1988. The constant purging of heretics has left Congress ever more polarized. This, more than anything done by Lieberman or Ben Nelson or Olympia Snowe, is why the government can't get anything done.

Those who accuse Lieberman of a recent right turn have probably forgotten that in his first campaign for Senate he secured the endorsement of William F. Buckley in defeating a liberal Republican, Lowell Weicker. Lieberman criticized Weicker for opposing U.S. military actions and accused him of trying to raise taxes.

His ideology has not changed one bit, as measured by vote ratings."
Have a tip we should know? tips@mediaite.com