Washington Post's E.J. Dionne: Maybe It's Time For The GOP To Draft A New Candidate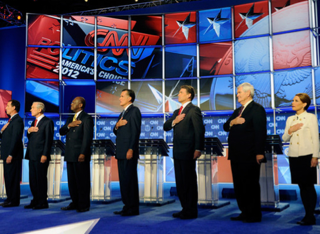 The Republican Party is going through a very bizarre primary period. After a year of turmoil that saw potential candidates rise and fall, and a spectacular season of semi-weekly debates that provided more awkward moments and embarrassing gaffes than a comedy writer could dream of, all signs point to the party convening around their safest bet: Mitt Romney. But with most other avenues exhausted, Washington Post's E.J. Dionne is asking whether it's time for Republicans to draft someone new into the campaign.
Dionne comes to this conclusion from examining the latest polls, which show that "Undecided" is polling at 17%, with "Someone Else" at 14%. Herman Cain, in first place in this CBS News poll, is at 18%. But while all the chess pieces keep rearranging themselves, Dionne notes that "the resistance to Romney in Republican ranks is the one constant trend in the polling." Every candidate (Jon Huntsman and Gary Johnson excluded, of course) seems to have had their turn now as frontrunner, with Newt Gingrich— after everything from glittering to Tiffany's to losing his entire staff– on some sort of "surge." When they run out of candidates, Dionne doubts Republicans will simply submit to running Romney.
RELATED: Romney Leads Cain! Cain Leads Romney! Confusion Reigns Supreme In Polls
Given these numbers, Dionne poses two questions. The first and most obvious one is whether Gingrich has what it takes to maintain a frontrunner status, given the mass exodus of campaign staff last year and the fact that he has a history of campaign blunders and, at this point, seems to be centering his platform on derision of the media and an insistence on more Lincoln-Douglas debates. The second is the far more interesting proposition of a third party candidate disrupting the entire primary by jumping into the New Hampshire primary:
Here's another question: Normally, it would be too late for someone else to get in. But there is clearly space here for another candidacy. Write-in campaigns were once common in New Hampshire, though a long time ago. Henry Cabot Lodge won the 1964 Republican primary in New Hampshire, beating Barry Goldwater and Nelson Rockefeller, on the basis of a write-in campaign organized without his approval (or disapproval) while he was our Ambassador to South Vietnam. Will there be a Draft Daniels – or Christie or Portman – write-in effort?
RELATED: Cain Mutiny: Herman Cain Leads Mitt Romney By 20 Points In New Zogby Poll
It's something to think about while we wait for the inevitable Romney nomination, sure, but the it's not like the Henry Cabot Lodge victory in New Hampshire went anywhere– if anything, it was one of those events that served as a reminder that early primary states really don't mean anything at all (except maybe money, especially in the most Citizens United world). There's also the fact that Governors Mitch Daniels and Chris Christie really, really don't want to be President, and of the people who have actually publicly toyed with the idea, none has the populist appeal required to pull that sort of stunt, and the few that may would be indelibly toxic to the Republican Party. Sarah Palin certainly doesn't, in New Hampshire at least. Tim Pawlenty can't be re-drafted now that he is a Romney campaign co-chair, and he proved himself to be antithetical to the concept of charisma– so much so that, in a campaign where "generic Republican" continues to poll better than any real person (as Dionne notes), he managed to go broke more than a year before the elections and still poll meagerly. Donald Trump would be a boon to comedy writers (and political commentators), but those who genuinely care about the Republican Party would know better than to let a gaffe-prone businessman with no political experience become their frontrunner, right?
Actually, Dionne may just have a point.
Have a tip we should know? tips@mediaite.com