NY Jets Chairman Says He'll Pay New League Fines if His Players Kneel During Anthem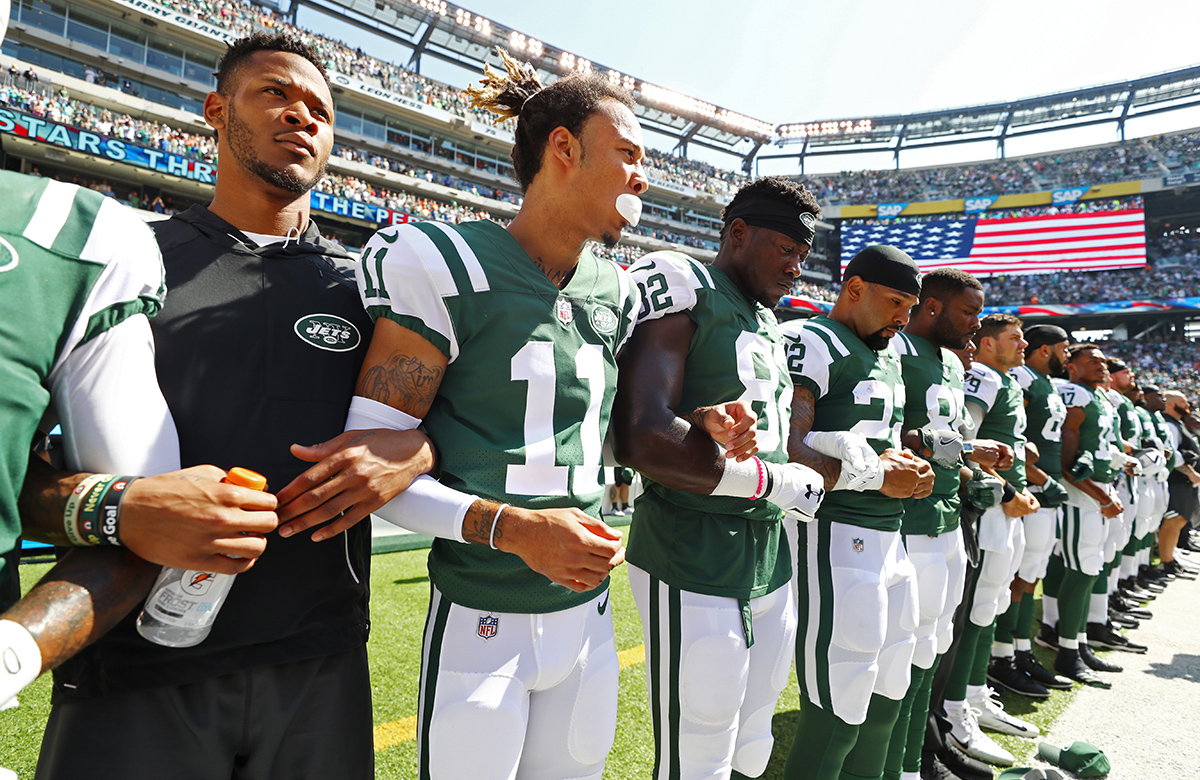 Earlier today the NFL announced their new policy regarding kneeling in protest during the National Anthem, which includes fines for the teams and "discipline" for non-player employees of the league.
There were a few immediate reactions – negative from the Players Association, celebratory from the Vice President – and more since then.
In remarks to Newsday, New York Jets chairman Christopher Johnson, he'll take the hit.
"I do not like imposing any club-specific rules," Johnson said. "If somebody [on the Jets] takes a knee, that fine will be borne by the organization, by me, not the players. I never want to put restrictions on the speech of our players. Do I prefer that they stand? Of course. But I understand if they felt the need to protest. There are some big, complicated issues that we're all struggling with, and our players are on the front lines. I don't want to come down on them like a ton of bricks, and I won't. There will be no club fines or suspensions or any sort of repercussions. If the team gets fined, that's just something I'll have to bear."
When he says club-specific rules, Johnson is referring to the possibility allowed in the new policy for each team to internally distribute the burden of punishment. Here's the specific line item:
Each club may develop its own work rules, consistent with the above principles, regarding its personnel who do not stand and show respect for the flag and the Anthem.
That won't be the case for the Jets.
Newsday points out that Johnson was vocally critical of the idea of owners taking action in the first place. "I know there's some discussion of keeping players off the field until after the anthem. I think that's a particularly bad idea,: he said back in March. "I just think that trying to forcibly get the players to shut up is a fantastically bad idea."
With this first step, it's going to be an interesting story in its own right seeing how individual teams opt to deal with the new policy, and whether any will be punishing players who break the rules.
It will also be noteworthy whether the policy change brings back lost viewers. Last year, the average audience was down 9.7 percent from 6.5 million viewers in the 2016 regular season to 14.9 million viewers per game for 2017, reports Daily Mail.
(Photo by Getty Images)
—
Follow Caleb Howe (@CalebHowe) on Twitter
Have a tip we should know? [email protected]
---