Kirsten Gillibrand Aide: Ivanka Present at One Time Meeting with Trump in 2010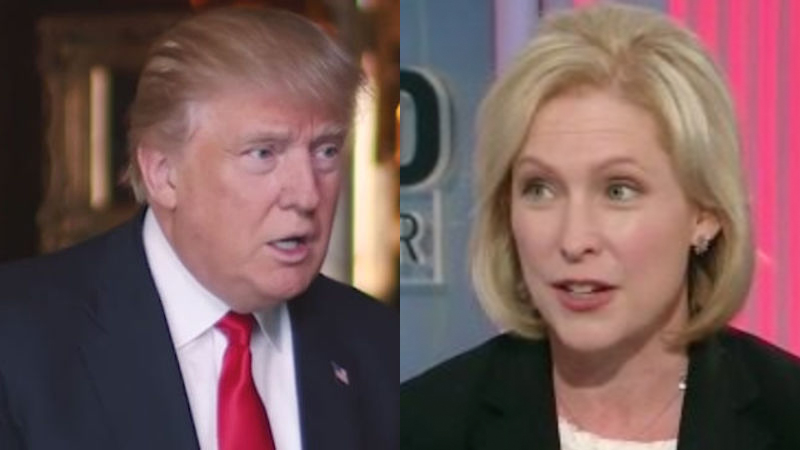 In case you've been living under a rock for the last, uh, 20 minutes or so, President Donald Trump is once again slowly tapping away with one finger on his iPhone, sending out controversial missives to Twitter.
Today's target? New York Sen. Kirsten Gillibrand, who called on him to resign yesterday amid a renewed interest in the many women who have stepped forward to accuse Trump of sexual misconduct.
The president tweeted that Gillibrand was a "flunky" who wanted campaign donations so badly she "would do anything for them."
Lightweight Senator Kirsten Gillibrand, a total flunky for Chuck Schumer and someone who would come to my office "begging" for campaign contributions not so long ago (and would do anything for them), is now in the ring fighting against Trump. Very disloyal to Bill & Crooked-USED!

— Donald J. Trump (@realDonaldTrump) December 12, 2017
If you read that and think he is insinuating, in his ever-so Trumpian way, that Gillibrand offered to trade sexual favors for campaign donations, or something, you wouldn't be the only one. That seems to be the general takeaway, with the president once again controlling the day's media cycle by excreting some outrageous nonsense all over social media.
Not that anybody on Gillibrand's side particularly needed to defend her, being as how the notion of her offering sexual favors to Home Alone 2 star Donald Trump is utterly laughable. But one of her aides has valiantly tried, telling reporter Josh Dawsey that Gillibrand only met with the president once, in 2010, and that daughter Ivanka Trump was present at the meeting.
Gillibrand aide says she met with Trump once in 2010, and Ivanka Trump was present at the meeting. https://t.co/2TZU6226i1

— Josh Dawsey (@jdawsey1) December 12, 2017
Gillibrand herself has responded to Trump's tweet, labeling it a brazen attempt to distract from calls for him to resign.
You cannot silence me or the millions of women who have gotten off the sidelines to speak out about the unfitness and shame you have brought to the Oval Office. https://t.co/UbQZqubXZv

— Kirsten Gillibrand (@SenGillibrand) December 12, 2017
It must be noted, that Gillibrand very likely did not "beg" for donations from Donald Trump, seeing as how she won re-election in 2012 with 72 percent of the vote, the largest margin of victory for any statewide candidate in the history of New York. Her victory in 2010, the year this meeting took place, was nearly as lopsided.
[image via screenshot]
—
Follow Lawrence Bonk (@sidescrollers) on Twitter
Have a tip we should know? [email protected]