White House Tries Debunking Accuser With 'Eyewitnesses'… Who Didn't Actually Witness Anything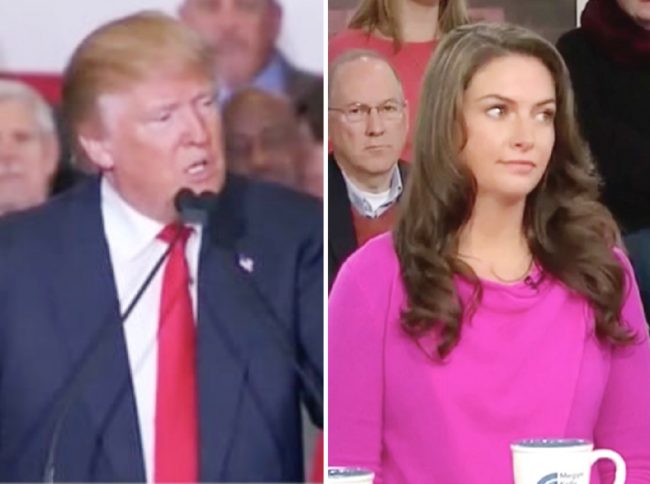 During Monday's White House briefing, Press Secretary Sarah Huckabee Sanders promised to distribute a list of "eyewitnesses" in an effort to debunk the claims of President Donald Trump's sexual misconduct accusers.
"In terms of the specific eyewitness accounts, there have been multiple reports," Sanders said. "I'll be happy to provide them to you after the briefing."
Sanders made good on her promise Monday night, giving some names to CNN and the progressive website ThinkProgress. And here's the thing: These eyewitnesses…they don't claim to have actually seen anything.
In an effort to refute the accusations of Samantha Holvey — who claims Trump harassed her during the 2006 Miss USA pageant, where she competed after having won the title of Miss North Carolina — the White House produced two former pageant contestants as supposed eyewitnesses; Katie Blair and Melissa Young. But neither Blair nor Young was in the 2006 Miss USA pageant. Blair was in the 2006 Teen Miss USA Pageant, held months after that year's Miss USA. And Young was in the 2005 Miss USA pageant, one year before Holvey.
In an interview with TMZ, Blair spoke about the general behavior she observed from Trump at pageants, and didn't address Holvey's specific allegation or any other claim.
"As far as the rumors surrounding him coming backstage and things like that, dressing rooms — absolutely not," Blair told TMZ. "I never experienced that. I don't know anyone that has."
Young, likewise, never specifically addressed Holvey's claim during a 2016 interview with CNN.
But the White House is citing these women as "eyewitnesses," despite the fact that they saw absolutely nothing. For this White House, it's a claim that seems par for the course.
[images via screengrab]
——
Follow Joe DePaolo (@joe_depaolo) on Twitter
Have a tip we should know? tips@mediaite.com
Joe DePaolo - Senior Editor