150 Writers and Professors Send Letter Criticizing 60 Minutes' Africa Coverage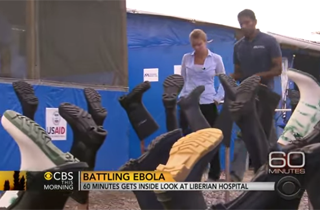 150 academics and writers put their names on a letter to CBS criticizing their crown jewel, 60 Minutes, for their "frequent and recurring misrepresentation of the African continent" whenever they covered stories emerging from Africa.
The letter, authored by former New York Times reporter Howard W. French, was sent to executive producer Jeff Fager and blasted the magazine program for, among other things, failing to get the perspectives of actual Africans when they sent their correspondents to cover Africa-centric topics.
While he had concerns with the way that 60 Minutes covered topics like animal wildlife, it was Lara Logan's ebola coverage, in which "not a single Liberian was quoted in any capacity," that apparently pushed French to write the letter. French, who worked as a foreign correspondent in West and Central Africa for four years, told Politico that he found her report "deeply shocking in the way that it eliminated Liberians themselves from the story about the Ebola crisis sweeping that country."
To be fair, while Logan was the one who actually traveled to Africa to do much of the field work and interviews on the story, there were certainly editors and senior producers who made calls about what to include and eliminate from the piece. It seems French singled out Logan to make a broader complaint about the program:
"This story came after a fairly extensive debate in the US about the disproportionate attention given to the relatively tiny exposure to Ebola faced in this country, compared to the toll that the disease had generated in a swath of West Africa," he wrote. "Logan proceed nonetheless to outdo the very worst of that kind of unbalanced coverage by going to Liberia and avoiding, or at least failing to broadcast the voices of Liberians — not even as simple victims, which would have been the easy and stereotypical thing to do."

"This got me thinking more broadly about the way the 60 Minutes franchise relates to Africa and what this says about a general and longstanding crisis in the American media's relationship with the continent," he continued. "To further surprise some weeks down the road, 60 Minutes did another story that used Africa as its backdrop without showing a single African, or giving even the most superficial hint of the country involved. It was a story about a white man whose mission in life is saving apes."
Coverage of Africa and international stories in general, are increasingly in short supply on network news programs so while French is entitled to his opinion, we should also be wary of those professors sitting at home critiquing coverage of the reporters actually going into the field to do the hard work that we all wish was more prevalent.
UPDATE — 6:51 p.m. ET: We received the following from a 60 Minutes spokesperson:
"60 Minutes is proud of its coverage of Africa and has received considerable recognition for it. We have reached out to Mr. French to invite him to discuss this further and we look forward to meeting with him."
[Politico]
[Image via screenshot/CBS]
—
>> Follow Tina Nguyen (@Tina_Nguyen) on Twitter
Have a tip we should know? tips@mediaite.com