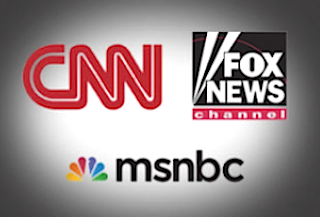 As 2014 comes to a close, the three major cable news networks are releasing their year-end ratings reports, each with its own spin on what made this year so fantastic. As always, Fox News remains far out in the lead ahead of its competition, which means the real battle is for second place between CNN and MSNBC. While both networks truly did have something to celebrate in 2013, this past year saw far more good news for CNN than it did for MSNBC, which, even in a midterm election year, struggled to stay in the game.
Below is a breakdown of highlights from the year in cable news ratings, by network.
Fox News
Marking 13 years at #1, Fox News was up about 2% in 2014 to an average 300K viewers per night in the demo favored by cable news advertisers. In total viewers for primetime, Fox nearly tripled its nearest competition with 1.748M.
In fact, in weekday primetime, Fox was the #2 highest-rated network across all of cable behind only ESPN and ahead of networks like USA and TNT. The network was down 4% in total day with 1.050M total viewers and 213K in the demo.
Fox claimed the top 14 spots on the list of highest-rated cable news programs in total viewers and nine of the top 10 spots in the demo (MSNBC's The Rachel Maddow Show was #15 in total while CNBC's Shark Tank was #10 in the demo). For the 15th consecutive year, The O'Reilly Factor topped both lists with an averaged 426K in the demo and 2.667M total viewers.
Meanwhile, The Kelly File clocked in at #2 on both lists and was the only cable news show that saw year-over-year gains in both the demo (up 5% to 374K) and total viewers (up 10% to 2.204K). The Five came in third place overall with 324K in the demo and 2.057M total viewers.
CNN
While last year, CNN could only celebrate a daytime victory over MSNBC, this year the network's press release trumpets, "CNN ENDS 2014 FIRMLY AHEAD OF MSNBC." It was the first time since 2011 that CNN has ranked #2 in total day in both total viewers and the demo and the first time since 2008 that the network beat MSNBC in the primetime demo.
In primetime, CNN was down 9% compared to 2013 in total viewers with 515K but dropped just 1% in the demo to 181K. In total day, CNN was down 3% in total viewers to 399K and down 4% in the demo to 126K.
Among CNN's big victories over MSNBC was New Day, which beat Morning Joe in the demo (104K to 101K). The relatively new morning show was up 8% compared to 2013 in total viewers, while Morning Joe was down 15% and Fox & Friends dropped 7%.
Outside of the 8-11 p.m. primetime hours, The Lead with Jake Tapper at 4 p.m., The Situation Room with Wolf Blitzer from 5-7 p.m. and Erin Burnett OutFront at 7 p.m. each beat their respective MSNBC competition in the demo. CNN Tonight was the highest-rated show in the demo with an average 210K viewers while Anderson Cooper 360 led in total viewers with 597K (not counting the occasional airing of The Sixties, which averaged 650K total viewers).
CNN also had the youngest audience in cable news, with a median age of 58, compared to 61 for MSNBC and 68 for Fox.
Of course, it wasn't all good news for CNN in Jeff Zucker's second year as president. While they may have made strides in comparison to MSNBC, CNN's ratings are lower than ever before. 2014 saw the lowest primetime total viewer ratings ever for CNN as well as its lowest total day demo ratings of all time. That includes the still-struggling 9 p.m. hour, which, with an average 545K total viewers, had the fewest number of viewers in that time slot since CNN's inception.
MSNBC
2014 not only saw MSNBC's ratings drop more than any other cable news network, but it was also the year it finally started to trail CNN in most major metrics.
In the primetime demo, MSNBC was down 17% to 169K, putting it solidly in third place. In primetime total viewers, MSNBC held on to second place but still fell 8% to 589K. The network's total day numbers are even worse, dropping 18% in the demo to just 108K and 12% in total viewers 347K.
Despite being MSNBC's highest-rated hour, The Rachel Maddow Show at 9 p.m. still hit all-time lows since its 2008 debut with 843K total viewers (down 2% compared to 2013) and 196K viewers in the demo (down 18%). Those drops were nothing compared to Morning Joe, which had its lowest-rated full year on record with 347K total viewers (down 15%) and just 100K viewers in the demo (down 26%).
If there was any bright spot for MSNBC, it was their second place finish in primetime total viewers, beating CNN in that metric for the fifth consecutive year. As president Phil Griffin noted in his annual memo to staff, MSNBC also has the most diverse audience of the big three networks, drawing the most Hispanic viewers in the demo and ranking #1 for African-American viewers in both the demo and total for the fifth consecutive year.
The Bottom Line
Last year, we predicted that Zucker's decision to focus on "more shows and less newscasts" could give CNN and edge over MSNBC in primetime in 2014. The irony is that is was primarily large-scale news events that helped CNN achieve its victory over MSNBC this year — not reality shows starring Mike Rowe and Anthony Bourdain.
While they did not come any closer to beating Fox News, CNN proved in 2014 that during events like the missing Malaysia Airlines plane search and the protests in Ferguson, Missouri, viewers would still turn to them in large numbers for the wall-to-wall coverage that their competitors refuse to provide.
Now, if CNN continues to move away from live news coverage to air more documentaries and pre-taped specials in 2015, will the network still be able to build on this modest success?
Here are the final ratings for 2014:
TV NEWS RATINGS: 25-54 DEMOGRAPHIC (L +SD)
TOTAL DAY
213
126
108
PRIME TIME
300
181
169
Data by Nielsen Media Research. Live and same day (DVR) data.
TV NEWS RATINGS: TOTAL VIEWERS (L +SD)
TOTAL DAY
1.050
399
347
PRIME TIME
1.748
515
589
Data by Nielsen Media Research. Live and same day (DVR) data
— —
>> Follow Matt Wilstein (@TheMattWilstein) on Twitter
Have a tip we should know? tips@mediaite.com