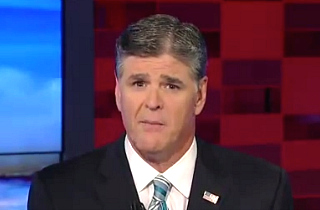 Today, Speaker John Boehner (R-OH) publicly threw his support behind House Majority Whip Rep. Steve Scalise (R-LA) after it was discovered that the latter gave a speech to a white supremacist conference in 2002. This has made Sean Hannity very, very angry.
in a statement to Breitbart, Hannity suggested that Boehner resign immediately, and to replace him with Rep. Trey Gowdy (R-SC):
Hannity, also a Fox News host, is specifically, in his exclusive statement to Breitbart News, calling on Boehner to be replaced with South Carolina's wildly popular Rep. Trey Gowdy (R-SC).

"The American people need bold inspiring solutions to reverse the damaging policies of the President and his party. This is not a time for half measures," Hannity said in an email. "It's time for new dynamic leadership in the House of Representatives. Trey Gowdy is my choice for speaker. He has the ability to articulate and implement the changes needed to get the country on the right path."

Hannity added that Gowdy has "a plan to balance the budget, secure the borders, push for energy independence and replace Obamacare with personal healthcare savings accounts," while Boehner shuns conservative Republicans.

"John Boehner has snubbed and ignored conservatives for too long as evidenced by the recent cromnibus budget deal he made with Obama, Reid and Hoyer," Hannity said. "It's time he step aside for the good of country and the conservative movement."
Hannity really, really, really does not like John Boehner: as recently as this month, he called Boehner "cowardly" and "Gruber-esque", and — you know what, for a long history of Hannity not liking John Boehner, click here.
[Breitbart]
[Image via screenshot]
—
>> Follow Tina Nguyen (@Tina_Nguyen) on Twitter
Have a tip we should know? tips@mediaite.com