30 Rock Producer Explains How The Show Will Handle That Whole Dead Kim Jong-Il Thing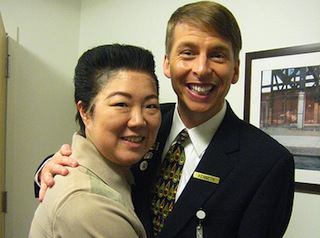 We here in America were really broken up when Kim Jong-il died. In fact, we were so upset that we spent a bunch of time worrying how it was going to affect the storyline of a silly sitcom with average ratings. Yes, clearly we all had a special place in our hearts for the Dear Leader. Anyway, a producer from 30 Rock was nice enough to speak to Us Weekly to explain how the death will affect all of the actors.
No, not those actors. I'm talking about Tina Fey and such.
In case you forget, 30 Rock, which is returning January 12th, left off its last season with the wife of Alec Baldwin's character (played by Elizabeth Banks) being kidnapped by Jong-il and married to his son, Kim Jong-un. With a number of episodes already filmed by the time of Jong-il's death, this seemed like it was set to cause more problems than the time Law and Order wrote a whole 2006 story arc in which Saddam Hussein became the new District Attorney. Fortunately, producer Robert Carlock explains that, while nine episodes have been shot, the show won't be disrupted too much.
From Us Weekly:
"'[Baldwin's character] Jack's love life is pretty complicated and it just got more complicated because I think, technically, Avery is the First Lady of North Korea,' Carlock explains to Us.

In a promo for the show's upcoming season, Banks' character poses for anti-American holiday cards with Kim Jong Il, who forced the Avery character to become his publicist/mistress.

'We sort of went back to the script because we'd already shot eight or nine episodes and we realized that luckily we hadn't referred to King Jong Il by name yet — just to North Korea in general,' says Carlock. 'We can't go back and address the changes there, but the fun puzzle is turning around and trying to figure out how to get her out of there and how to continue things.'"
Carlock also said that they could always go the route of depicting Jong-il (played in the show hilariously and with disturbing accuracy by Margaret Cho) as haven faked his death. Fortunately for them, Kim Jong-il was one of the few people where that would be one of the less crazy things to have happened.
Well, now that that's all figured out, we can focus on the things that really matter, like 2 Broke Girls' troublesome "Osama bin Laden is our landlord" storyline.
God, that show has so much potential if it could just stop with the racial stereotypes!
(h/t The A.V. Club)
Have a tip we should know? [email protected]