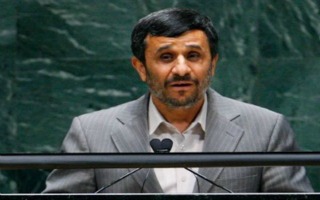 The previews of CNN host Piers Morgan's interview with the President of Iran, Mahmoud Ahmadinejad, look highly entertaining. In the previews, Morgan presses Ahmadinejad hard on the issue of the taboo of homosexuality in Iran and, in previews on Monday, Morgan claimed that he pursued pressing issues like Israeli-Iranian relations. But in Ahmadinejad's speech to the United Nations General Assembly on Monday, the Iranian leader made a mockery of even the exercise of exposing Ahmadinejad to a pliant and credulous Western media.

RELATED: Ahmadinejad Sits Down With Piers Morgan, Engages In Heated Argument Over Homosexuality
In the clip which Morgan previewed on CNN on Monday, he challenged Ahmadinejad rather forcefully on the issue of homosexuality – a high crime in Iran, theoretically punishable by death.
The two argued forcefully over the rights of gay men and women, which are seriously curtailed in the Islamic Republic. In fact, the United Nations' own Human Rights Committee has recommended Iran seriously consider amending its laws pertaining to homosexuality after having found that Iran's laws violates the International Covenant on Civil and Political Rights (ICCPR).
This type of human rights-related celebrity cause is easy to drum up indignation over. There will be no blowback from the progressive members of the nation's news media for advocating for homosexual freedoms and human rights too forcefully.
However, I was a touch disturbed that the pull clip which CNN chose to show to promote this interview had nothing to do with the single most pressing global security issue of our time – Iran's rapid nuclearization and the imminent threat of a preemptive Israeli strike on Iran's enrichment facilities. Having not seen the interview, I opted to withhold judgment. But as the preview of Morgan's interview on CNN wore on, my faith that this most dire of issues would be seriously addressed continued to wan.
My doubts about the integrity of the interview were further eroded when Morgan concluded his pitch by saying, with palpable astonishment, that Ahmadinejad's perceived animosity towards Israel is the result of a simple misunderstanding.
"He clarified this statement that he made, which caused a huge furor at the time, which was that he wanted to wipe Israel off the map," said Morgan. "When I really pressed him on this tonight, he says – really, what he implies what he meant – was that he wanted to wipe, as he put it, the Israeli occupation of Palestinian land off the map."
Oh, there you go. A bit of a blooper. Merely a case of crossed signals. In fact, the confusion was really the fault of the West – maybe a failure of Farsi to English translation. If only those pesky Israelis would do something drastic, like unilaterally drag citizens from their homes, kicking and screaming, in order to placate international pressure groups… Wait, that didn't work the first time?
Morgan seems to have accepted this explanation at faith value – as though Ahmadinejad's remark was a poorly reported, one-time gaffe or a rhetorical stretch to placate an irrational constituency back home. It was not. This has been a rallying cry that Iran's theocratic leaders found to be a guiding principle which qualified Ahmadinejad for the presidency in 2005. Futhermore, it is a threat that he has repeated countless times (though, the Anti-Defamation League has a decent running list).
The most recent being today in his speech before the United Nations General Assembly.
"Iran has been around for the last seven, 10 thousand years. They (the Israelis) have been occupying those territories for the last 60 to 70 years, with the support and force of the Westerners. They have no roots there in history," Ahmadinejad said, ominously. "We don't even count them as any part of any equation for Iran. During a historical phase, they (the Israelis) represent minimal disturbances that come into the picture and are then eliminated."
Again, I have not seen Morgan's interview and I hesitate to prejudge it. Perhaps Morgan presses Ahmadinejad on the implications that his treats have for global security and that his remarks by themselves represent an irresponsible provocation – his constituency be damned. Maybe Morgan does not let Ahmadinejad's clarification stand and follows up by asking why he has multiple times referred to Israel as a "tumor" on the body of the Middle East that must be excised. Maybe Morgan asks why Ahmadinejad has so often denied that the Holocaust even occurred. Maybe Morgan asks why Ahmadinejad presides over the globe's number one exporter of terror that has regularly waged terror campaigns pinside Israel and is linked to an attempted attack on U.S. soil less than one year ago.
Or maybe he just found him "charming." Tonight, we will see. Many will be watching.
> >Follow Noah Rothman (@Noah_C_Rothman) on Twitter
Have a tip we should know? tips@mediaite.com