Alan Colmes: 'Conservatives Basically Want to Have Sex with the Constitution'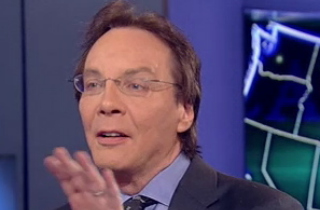 Fox's Alan Colmes thinks conservatives are so obsessed with the Constitution that they'd like to fornicate with it.
During a Tuesday segment of his Alan Colmes Show, the eponymous host poked fun at a caller who had suggested he has ignored the ongoing investigation into the lost IRS emails involving former official Lois Lerner.

"I think it's mismanagement, I don't think it's a scandal," Colmes told the caller. "This was because… a lack of funding so the IRS could not get up-to-date equipment. They're using antiquated equipment and they've lost data."
He then told the caller that "Republicans try to make everything a scandal," prompting the caller to ask why, if it was simply "mismanagement," Lerner had invoked her Fifth Amendment right against self-incrimination when asked to testify before Congress. That question set off Colmes [emphasis added]:
You know it's funny to me that conservatives talk about how much they love the Constitution but when somebody exercises their constitutional rights they're declared guilty when they're not supposed to be. Simply because of the Fifth Amendment. Does invoking the Fifth Amendment indicate guilt? I mean, I love how conservatives always tell me how much they love and admire and basically want to have sex with the Constitution –- except they'd probably get paper cuts with that old parchment paper -– but when somebody actually exercises their constitutional rights, it's a big problem.
Now that's a bizarre visual.
Listen below:
[h/t RealClearPolitics]
— —
>> Follow Andrew Kirell (@AndrewKirell) on Twitter
Have a tip we should know? [email protected]