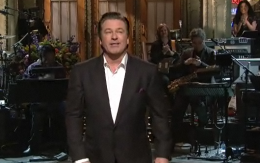 Alec Baldwin hosted the SNL season finale last night and while he may not have inspired the Betty White hysteria of last weekend (nor the ratings one imagines) he's certainly a familiar face on the SNL stage. This was Baldwin's 15th go-round as host, tying him with Steve Martin (who made a quick appearance via satellite in the monologue). Highlights from the show below, click through for video clips. Plus, scroll down for Baldwin's opening monologue.

SNL: Bill Hader's Stefon Has More Fun In New York Than You Do: In an otherwise lackluster SNL (sorry, Alec Baldwin), the standout was Bill Hader's new character, club kid Stefon, whose detail-rich descriptions of New York's hottest nightspots are creative, hilarious, and sound like the kind of ridiculous fun that is the stuff bachelorette parties gone wrong are made of.

SNL: Alec Baldwin Pokes Facebook: This week sees the return of Grady Wilson's Sex Tips, featuring Kenan Thompson as elderly lothario Grady Wilson getting some help from Alec Baldwin's mustachioed Greek sexpot in gold lamé. Yes, Facebook poking jokes are old, but familiar funny jokes executed in a slightly new way will always get a snicker.

SNL Digital Short: Andy Samberg's Cokehead Tour-de-Force: The SNL Digital Shorts are often odysseys of goofiness and non-sequiturs, usually featuring Andy Samberg's elastic face, and rarely disappointing, even when you don't quite get the joke. Tonight's was no exception as Samberg dances through life with a heaping dusting of coke across his face.

SNL: "And Now A Message From The People Who Ruined Our Ocean": President Obama will like this quick, pithy open from SNL tonight: They rag on the oil company executives and their ridiculous solutions for fixing the massive BP spill in the Gulf. Short, sweet, reminds you how much you hate Halliburton.

Alec Baldwin on SNL: He's No Betty White, But He'll Do: Yes, Betty White was great last week. And yes, she brought SNL its highest ratings since the election. And no, tonight's SNL season finale host Alec Baldwin probably will not match her ratings. But he'll probably do okay.