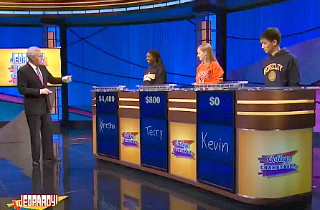 Last night's college edition of Jeopardy! may have gotten a tad uncomfortable when host Alex Trebek told a black contestant she'd "better get" the answer to a question about the United Negro College Fund (UNCF).
The contestant, Kenesha Bennett, is a student at Oakwood University, a private school in Huntsville, Alabama.

After she selected the $800 question under the "Student Aid" category, Trebek read the question: "This group gives scholarships to minority students & financial support to 37 historically black colleges and universities."
"Kenesha, you'd better get it," he joked as she began to answer.
Bennett laughed and said "I know" as she answered correctly that it was the UNCF.
Upon first glance, one might assume Trebek said she'd "better get" it simply because she's a black student. Some might brand that "racist," right? A quick perusal of Twitter shows many social media users did exactly that (post continues below):
Hmmm…Alex Trebek sounded a little racist on that one.

— It's Clowney Time! (@ClowneyTime) February 13, 2014
Add racist to one of Alex Trebek's many talents #Jeopardy He told a black girl to answer a statement about UNCF

— Juan Flores (@johnnyflowers17) February 13, 2014
Wow, Alex Trebek. I knew you were sexist, didn't know you were a racist too. #Jeopardy

— Michele G. (@MicheleinPhilly) February 13, 2014
Except one thing: Oakwood University is a member institution of the UNCF and, thus, one of the 37 schools to which the organization provides scholarship funds and financial support.
It's likely Trebek assumed Bennett should know the answer, not specifically because of her skin color, but because she goes to a school that has such a close relationship with UNCF.
Ben Shapiro's conservative website, TruthRevolt, also picked up on the clip. Considering his site is dedicated to "holding media members accountable" and revealing liberal media double standards, it's safe to assume that posting the video, without any additional context, was a subtle attempt at race-baiting over Trebek's quip.
Of course, Shapiro would make the case that if Trebek were an outspoken conservative host — like, say, Pat Sajak — he'd instantly be called a racist by the media. That may very well be true; but, either way, people should still defend him from such accusations here.
Watch the clip below, via ABC:
— —
>> Follow Andrew Kirell (@AndrewKirell) on Twitter
Have a tip we should know? tips@mediaite.com