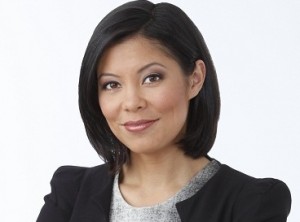 Nearly a year into the Alex Wagner era at MSNBC, I finally got the chance to sit down with my old White House compadre to catch up, and ask about the news of the day, the media, and what goes into making her show, Now With Alex Wagner. The noon MSNBC offering just completed its 207th episode today, and has distinguished itself from other cable news fare with an eclectic array of panelists and a loose, quirky vibe. In the first part of our interview, Alex waxes nostalgic about the White House beat, and discusses the hard work (and other ingredients) that go into her show.
Alex credits MSNBC President Phil Griffin's vision of a young, thoughtful lineup of new, commentary-driven shows for her rather meteoric rise, from White House reporter for an internet site, to cable news contributor, to host of her own show. "I was in the right place at the right time," she says.
Along with that luck, though, came a lot of hard work. As a White House reporter, Alex was in there with the grunts, standing for hours in the hot sun waiting for a two-minute stakeout by BP executives, covering canned announcements from the East Room, sitting in daily briefings where news is wrung out like water from a stone, and every other thankless task that's asked of a reporter on the best beat in politics, but that lots of reporters end up skipping.
She also expresses a sense of awe at the setting, at the import, of working at The White House, something a lot of reporters either hide out of too-coolness, or lose altogether over time. Asked what she misses most about the beat, Alex replies "I really miss writing. I do a fair amount of writing, overseeing scripts and rejiggering them, but it's not like writing an actual news story. I miss that a lot."
Alex says the White House beat is fascinating because "it's an incredibly narrow beat, but at the same time, it's huge, given the topics involved," and says she misses the excitement of being there when the President, or Robert Gibbs, or Jay Carney, would come out to throw "fresh meat" to reporters.
Her show features a large, diverse panel of political experts and flacks, and media figures, from both sides of the aisle. While the mix can be chaotic at times, the atmosphere of the show has a tendency to slice through canned talking points and flackery. It's like a three-martini lunch at a well-lit Washington, DC watering hole, almost an on-the-record Off The Record (or Old Ebbitt Grill, more likely). People who write the show off on ideological grounds are missing out. Now is like a more chill, less conservative (but still diverse) Morning Joe.
Here's the first part of our interview, in which Alex explains the vibe that sets her show apart (watch for the rest later this week):
Have a tip we should know? tips@mediaite.com