Anderson Cooper and Andy Cohen Deliver CNN's Most-Watched New Year's Eve Special Ever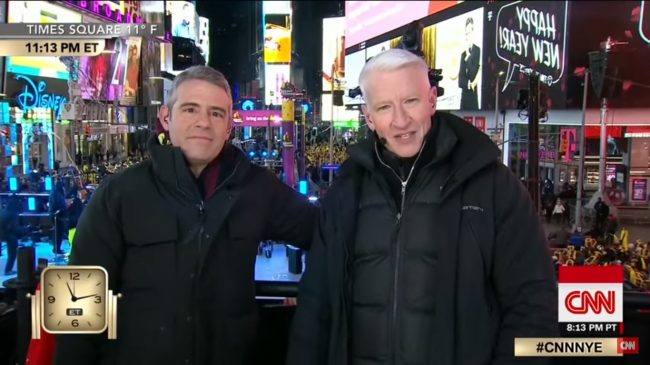 In their first pairing as co-hosts of CNN's New Year's Eve live coverage, Anderson Cooper and Andy Cohen gave the network its best-ever ratings for a NYE special. Beyond that, CNN dominated not only cable news coverage as the nation rang in 2018, but topped all of cable.
For the 11 PM to 12:30 AM time period, New Year's Eve Live with Anderson Cooper & Andy Cohen averaged 3.284 million total viewers and 1.296 million in the key 25-54 demographic. CNN saw an 8% gain in total viewers from last year's special and a 1% increase in the key demo. The previous year's broadcast, co-hosted by Cooper and comedian Kathy Griffin, pulled in 3.035 million total viewers and 1.284 million in the demographic.
CNN comfortably outdrew Fox News the entire night (MSNBC didn't air a New Year's Eve live special). In the 11 PM – 12:30 AM block, Fox averaged 2.423 million viewers overall and 608,000 in the demo. In the entire 8 PM – 12:30 AM program block, CNN pulled in 2.228 million total viewers and 902,000 in the demo compared to FNC's 1.936 million overall audience and 465,000 demo viewers.
In the primetime 8 PM to 11 PM block, it was neck-and-neck between the two channels in overall viewers. CNN ended up edging out Fox, 1.699 million to 1.693 million. CNN, however, finished comfortably ahead in the key demographic, 705,000 to 393,000.
CNN also ranked first in total viewers among all cable programs with its 12:30 AM – 1:05 AM broadcast of New Year's Eve Live with Brooke Baldwin & Don Lemon. The program drew a total 2.339 million viewers and 894,000 in the 25-54 demo. Comparatively, Fox News pulled in 1.357 million overall viewers and 412,000 in the demographic.
[image via screengrab]
—
Follow Justin Baragona on Twitter: @justinbaragona
Have a tip we should know? tips@mediaite.com