Anderson Cooper Says Wasserman Schultz In 'Alternate Universe' About DNC Platform Change
Cooper: Wasserman Schultz In 'Alternate Universe' About DNC Platform Change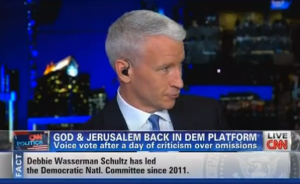 Following this afternoon's ordeal, during which the Democratic Party's platform was amended to include "God" and mention that Jerusalem is the capital of Israel, Anderson Cooper turned to DNC Chair Debbie Wasserman Schultz for her response, incredulously deeming that she was in an "alternate universe."
RELATED: Many DNC Delegates Revolt Against Vote To Recognize Jerusalem As Israeli Capital In Platform
CNN's Brianna Keilar spoke to Wasserman Schultz on the convention floor, asking for her opinion about the amended language regarding Jerusalem, particularly given that she's one of "the most prominent Jewish lawmakers." Wasserman Schultz called it a "technical oversight," asserting that while the platform was amended to convey the president's personal view, the existing language was very pro-Israel.
Keiler noted that the supposed "technical oversight" opened the Democrats to criticism from Republicans, but Wasserman Schultz pointed to the president's record and relationship with Israel as proof positive of Democrats' strong support of Israel.
"The bottom line is we've taken steps, we've amended it, President Obama felt it was important to reflect his personal view and it's done. And we're moving forward and continuing this convention," she said.
As for the chaotic vote, and some disagreement about whether two-thirds actually approved the platform change, the chairwoman said, "There wasn't any discord."
RELATED: CNN Panel Confused By 'Embarrassing' Delegate Revolt At DNC Over Jerusalem, God
Reacting to interview, Cooper repeated that Wasserman Schultz said there wasn't a change of language, there wasn't any discord, and it was a two-thirds vote. "I mean, that's an alternate universe," he said to the panel.
This the same person, Cooper said, who recently attacked Mitt Romney's campaign and said "it is the candidate who sets the platform, who designs and writes the platform. It wasn't true when she was saying it two weeks ago — but now isn't it fair if she claimed that about the Republican platform to claim that about the Democratic platform?"
Cooper further argued, "From a reality standpoint, you can defend it, as the head of the DNC, but to say flat out there was no discord is just not true."
Take a look, via CNN:

Have a tip we should know? tips@mediaite.com