Andrea Mitchell Battles Romney Surrogate, Defends Obama From 'Apology Tour' Accusations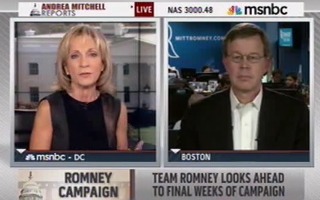 MSNBC anchor Andrea Mitchell invited Mitt Romney surrogate and former Missouri Sen. Jim Talent on her program on Tuesday to discuss last night's foreign policy debate between Romney and Present Barack Obama. The interview became contentious as Talent made several assertions about the Obama administration's record on foreign policy which Mitchell took issue with.

Mitchell asked if he thought there was any ground to the Obama campaign's charge that Romney has adopted positions that he does not hold but may help him win the election.
"I think the president is modifying his positions to come closer to Gov. Romney's and, by the way, closer to the mainstream of American foreign policy," Talent replied. The former Missouri Senator began to chastise Obama for going on an "apology tour" abroad in the early years of his administration when Mitchell interrupted him.
"I have fact checked the so-called apology tour and it just didn't happen," Mitchell said.
Talent countered by listing the various ways in which he felt that Obama had apologized for American actions in the early years of his administration. Talent focused on the president's inability to get the Iranian government to come to the table or impose severe sanctions on the nation until recently.
"I've been covering the Iran sections in the U.N., in the P5+1, this administration after its initial attempt in February of '09 – excuse me, January of '09 – to reach out and give Iran a chance to try to have an engagement," Mitchell said. "After that initial engagement, there was nothing but a move in the united nations by Sec. [Hillary] Clinton to try to bring all the allies on board with sanctions."
Mitchell insisted that the Obama administration has imposed the "toughest sanctions ever" on Iran.
"Took 18 months. We had to water it down to get the Russians to agree to something and then it was only when the Congress – with Sen. [Bob] Menendez leading the way – that the president went further," Talent replied.
"In the second tranche, you're absolutely correct," Mitchell agreed.
The two engaged in crosstalk as they made their points. She concluded the segment by playing a clip of Romney agreeing with Obama's position on the ouster of former Egyptian President Hosni Mubarak and said that he was "Mr. Congeniality" in last night's debate.
Watch the clip below via MSNBC:
> >Follow Noah Rothman (@Noah_C_Rothman) on Twitter
Have a tip we should know? tips@mediaite.com