Andrew Breitbart: Obama And Clinton Told Rep. Weiner To 'Get The Hell Out Of Here'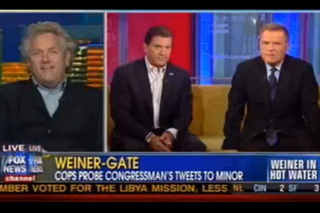 The Rep. Anthony Weiner sexting story refuses to stop escalating to higher levels of impropriety with each passing day, and with the news last night that the Congressman had been speaking to a 17-year-old girl surfacing, calls for him to resign are at a fever pitch. On this morning's Fox & Friends, Andrew Breitbart confirmed there was one underaged girl with which he spoke, and even before that news broke, the heads of the Democratic Party were calling for Rep. Weiner to resign.
Breitbart noted that the news was not exactly surprising to him given the information he had received, but that he had not published much of the stories he had been tipped on because they could not be confirmed. Many of the Twitter conversations between Rep. Weiner and underaged girls were of such a nature that it was possible they could have fabricated them– "these teenaged girls could have had active imaginations," he noted– and so he waited for more information to come in. Now there is at least one confirmed underaged girl with which Rep. Weiner was speaking– one who was publicly nursing a crush on the 47-year-old legislator.
"I don't know the appropriate communication through Facebook chat that a 47-year-old man can have with a 17-year-old," Breitbart noted, "especially in light of the type of communications she was writing about him." Eric Bolling, visiting from Fox Business to host today's morning show, asked Breitbart several times whether he believed there was more to come, to which Breitbart noted that he could not reveal details, but "with this guy, where there's smoke, there's an Arizona wildfire the size of Los Angeles."
What's more, even before the allegations of statutory Facebook-chatting, Breitbart said an "impeccable source" had told him that the scandal had floated up all the way to the office of the presidency: "Obama and Clinton spoke to him yesterday and said 'Get the hell out of here,'" he said. "I cannot imagine that this guy can survive til Monday."
The segment via Fox News below:

Have a tip we should know? tips@mediaite.com