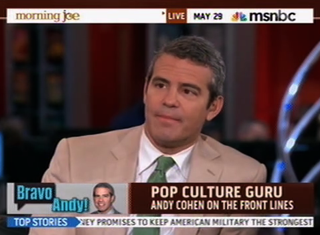 Bravo exec Andy Cohen has really been making the rounds lately, in part due to his new book, Most Talkative, and in part due to the success of his cocktails and gossip-with-extremely-famous-people talk show Watch What Happens Now. On today's Morning Joe, Cohen chatted about his time as a shirtless CBS news employee and interviews with Joey Buttafuoco with Mika Brzezinski and company.

RELATED: Bravo's Andy Cohen Tells CNN About The Time He Was 'Freeballing' With Cybill Shepherd
The discussion kicked off with a clip Willie Geist described as "perfectly capturing the essence" of what Cohen does: a clip of Dan Rather and John Mayer having cocktails on Watch What Happens Live. Cohen explains that yes, Rather had a bourbon. They then jumped straight into the stories in the book, and Cohen explained that he spent at decade at CBS news. "The news has changed so much since I was there," he told the panel, "it has become so much more driven by entertainment stories," something he found interesting but "on the other hand, we were competing against all these other outlets that we had never been competing for stories with." He explains he wound up "burning out" and heading over to Bravo.
John Heilemann then asked "of all your children," what Cohen's favorite story in the book is. Cohen couldn't choose just one as the best, but did explain, for example, that his time as an intern at CBS taught him that there were appropriate and inappropriate ways to behave. This being the '90s, "the song of the summer was 'Express Yourself,' so… I was running around CBS expressing myself." Cohen explained he "got kicked off the set of CBS Evening News" for all the singing.
Cohen also notes his book has dramatic and serious life stories in it– including how he came out as gay to his family, which Geist noted made his wife cry. For the most part the panel was lively however, with Cohen summing up his news time as "one day you're in Joey Buttafuoco's bedroom and the next day you're covering Hurricane Andrew."
The segment via MSNBC below:

Have a tip we should know? tips@mediaite.com