Ann Coulter On Female Vote: 'Single Women Look For Gov't To Be Their Husbands'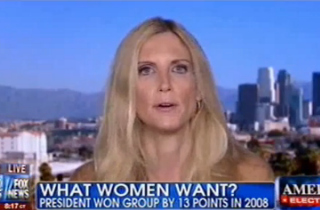 Appearing on Fox & Friends Sunday, conservative columnist Ann Coulter discussed a wide variety of subjects including the recent string of perceived gaffes by Vice President Joe Biden, media bias, and the courting of the female vote. When asked why women don't typically turn out a majority for Republican candidates, Coulter explained that "it's the single women's vote" which looks to the government "to be their husbands" and provide a variety of free services that the Democratic Party generally favors.
Co-host Alisyn Camerota mentioned that recent campaign ads have focused on "which party would be better for women," adding that the Republicans have been painted as not having "women's best interests at heart"" because of their stance on abortion, among other issues.
"It seems to be working," Camerota said. "The latest polls have suggested that President Obama has a big lead over Mitt Romney in terms of the female vote." However, she noted, there is a poll that shows "stay-at-home moms'" approval of Romney is up. "Only 23% of President Obama's presidency, but, I don't know if they are a big enough voting bloc to even count when the women's vote altogether is heading towards President Obama."
"This is nothing new," Coulter responded. "When both the Democratic Party and the media are fixated on which way the women are going, that is usually not a good sign for them, you know? Let's talk about which way the country is going. Women are a slight majority but are not the entire country."
"Ronald Reagan managed to win two landslides without winning the women's vote," she continued, before offering a correction to the focus of the discussion:
"It's not the women's vote generically, it is the single women's vote. And that is because single women look to the government to be their husbands and give them, you know, prenatal care, and preschool care, and kindergarten care, and school lunches. These are not programs designed to appeal to Bruce Willis."
"I'll let that marinate," Camerota said to end the segment.
Watch below, via Fox News:
— —
>> Follow Andrew Kirell (@AndrewKirell) on Twitter
Have a tip we should know? tips@mediaite.com