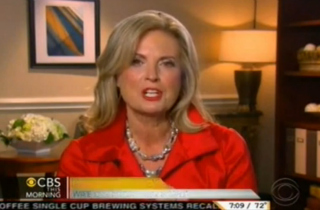 Ann Romney, wife of GOP presidential nominee Mitt Romney, appeared on CBS This Morning to give her post-convention thoughts. When pressed about Clint Eastwood's surprise Thursday evening speech that left some people confused, she told CBS that she did not expect such a "unique" routine, but appreciates Eastwood's support regardless of how unusual the speech may have been.
Norah O'Donnell asked Romney whether she wishes the "touching" video montage of the Romney family's personal lives had aired during prime time instead of Eastwood's "monologue."
"We appreciated Clint's support, of course," Romney replied, "but it's so hard to really get a sense of who this person is in such a short amount of time. But yes, I do wish more people had seen those touching moments."
O'Donnell pressed her further, saying that "because time is so precious" and the Romney campaign wants to convince Americans of the candidate's trustworthiness. With that in mind, she asked, was Eastwood's speech a "distraction" or a "mistake"?
"We appreciated Clint's support," Romney reiterated, adding that "he's a unique guy and he did a unique thing last night."
Host Charlie Rose jumped in and mentioned that cameras had caught Romney looking "surprised" by Eastwood's speech.
She responded that "I didn't know it was coming," and concluded by saying, "We're grateful for everyone's support and especially grateful for what a great night it was last night for us."
Watch below, via CBS:
— —
>> Follow Andrew Kirell (@AndrewKirell) on Twitter
Have a tip we should know? tips@mediaite.com