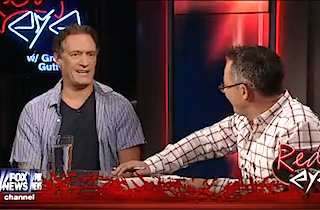 Anthony Cumia was recently fired from his popular Opie and Anthony Show for what SiriusXM deemed a "hate-filled" rant on Twitter after he was "allegedly" punched in the face by a black woman. At 3 a.m. Saturday morning, Cumia made his first television appearance since the incident, joining the panel of Fox News' Red Eye to break down exactly what happened over the last week.
Host Greg Gutfeld opened the show by saying, "Let's start with economic news," before quickly shifting gears. "Who are we kidding?" he asked. "Let's address the elephant in the room, the racist elephant." He then read some of Cumia's most outrageous, now-deleted tweets as the radio host was forced to look on awkwardly.
"Obviously Anthony's Twitter feed had been hacked," Gutfeld said. "He was volunteering at the time at a children's hospital, right?"
"Nobody would have believed that," Cumia said. He said he briefly considered pulling an Anthony Weiner, but realized that "people who listened to me on the air would have known, 'yeah he talks like that on the show all the time.' For 10 years at SiriusXM, I had spoken like that, stringing together lines of obscenities in nonsensical fashion."
After retelling the story of what happened to him in a less racially-charged way, Cumia defending the tenor of the tweets given the circumstances. "If you read those — honestly people picked it apart. It wasn't racist," he insisted.
"How can you say it's not racist?" co-host Andy Levy asked. "How can you say that?"
Cumia said he was "talking about people that instantly go to violence," not necessarily all people of a certain race. When Gutfeld challenged him to explain his use of words like "animals" and "savages," Cumia said it was "misconception" that he was talking about all black people — just the violent ones.
Gutfeld did say he found it "odd" that Cumia is allowed to talk like this on his show, but then SiriusXM fired him for saying similar things on social media.
"To fire me for something on social media is kind of hypocritical, I think," Cumia said. "There wasn't even any outrage. No one approached SiriusXM and said 'Oh my God, you've got to fire him.' It was such a kneejerk reaction in this day and age."
Cumia went after websites like Gawker for taking his tweets and holding them up in front of "people who never cared in the first place." He added, "It's dangerous. We are on our own Big Brother."
"I will never apologize for this," Cumia said, even if it meant SiriusXM would give him his job back. "I didn't do anything wrong. This is completely — this is exactly who I am. I am not seen going to deny it. I go off on tears like this. I curse, I say horrific things about people who piss me off and that's exactly what I did. Why am I going to apologize and say I am different or I changed? I haven't. It would be a phony bogus apology. iI it happened again, I would do the same thing."
Watch the full discussion below, via Fox News:
[Photo via screengrab]
— —
>> Follow Matt Wilstein (@TheMattWilstein) on Twitter
Have a tip we should know? tips@mediaite.com