Anthony Weiner: Unlike Media, NYC Voters Care More About 'Their Future' Than My 'Embarrassing Past'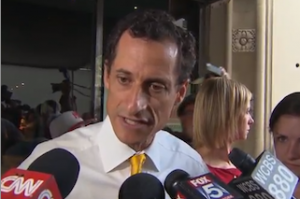 During a routine campaign stop that drew more press than Anthony Weiner has been used to seeing in recent weeks, the candidate called out the media for drawing too much attention to his past scandals instead of focusing on what voters really want to hear about: the issues facing regular New Yorkers.
Weiner spoke to reporters just one day after holding a last minute press conference to help quell the uproar over additional sexually-explicit material from his (not-so-distant) past emerged. He told reporters it was "legitimate" for people to discuss these aspects of his past, but he's been trying to focus on "ideas for the middle class and those struggling to make it" in New York City."
"This is not just about me," Weiner continued. "This is about this city and the aspirations of people to make things better." He admitted that people exist "who may well never conceive of voting for me because of the things that are in my past."
"I have posited this whole campaign on a bet," he said. "And that is that citizens are more interested in the challenge they face in their lives than anything embarrassing I have done in my past." Speaking directly to the members of the media surrounding him with microphone and cameras, Weiner said, "many of you have been focused on other things, but when people talk to me on the street, they don't want to talk about something in my past, they want to talk about their future."
Watch video below, via CNN:
Just for fun, let's take a poll to see what aspect of this story you think the media should be covering. Would you rather hear about the bright prospects of New York City's future or the dark underbelly of Anthony Weiner's past?
—
>> Follow Matt Wilstein (@TheMattWilstein) on Twitter
Have a tip we should know? tips@mediaite.com