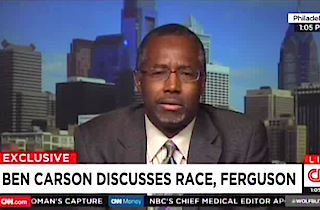 When Dr. Ben Carson sat down with CNN's Wolf Blitzer for a wide-ranging interview Wednesday, the first thing the anchor wanted to know was whether the potential 2016 Republican presidential candidate agreed with recent comments made by former NBA star Charles Barkley on the situation in Ferguson, Missouri.
"I think it's true that the police are our friends," Carson began, in reference to Barkley's assertion that it's "ridiculous" to say white police officers are killing African-Americans in this country. He imagined 24-hours with no police — a scenario no one has suggested — as creating "total chaos" and urged more communication between cops and citizens. "I think he has some very valid points, absolutely," Carson said of Barkley. "I probably wouldn't have expressed them quite so vehemently."
Asked whether "justice was served" in the Michael Brown shooting case, Carson said "we never like to see death" but added, "we also have to understand that people have to take responsibility for some of their own actions" (meaning Brown, not Officer Darren Wilson).
Finally, Carson weighed in on President Barack Obama's reaction to Ferguson and other racially-charged incidents over the last few years. "I probably, had I been him, would not have gotten involved in the first place," Carson said. "We have to allow our system to work without biasing things, and we really should never take sides in these issues while the legal process is in the process of playing out."
As for Carson's assertion that race relations have gotten worse under Obama, he clarified, "I said that race relationships have gotten worse during his time. I don't blame it all on him."
Watch video below, via CNN:
[Photo via screengrab]
— —
>> Follow Matt Wilstein (@TheMattWilstein) on Twitter
Have a tip we should know? tips@mediaite.com