Bill Kristol: Herman Cain Is Not Going To Be The Nominee, He Was Never Going To Be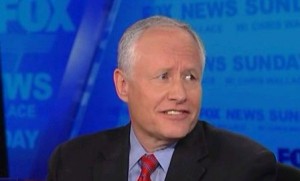 On Fox News Sunday today, Bill Kristol threw cold water on Herman Cain's presidential candidacy, arguing that regardless of his popularity among conservative voters and whether or not his sexual harassment scandal will end up helping or hurting him, there was very little chance in the first place he was ever going to be the Republican nominee.
Chris Wallace brought up Cain's contentious exchange with a reporter last night over the allegations over his sexual harassment controversy, and asked the panel if there was a connection between what Cain is currently going through and what Supreme Court Justice Clarence Thomas faced twenty years ago during his nomination process for the bench.
Kristol argued the cases were not the same at all, suggesting there may be more to go on in Cain's case than there was with Thomas during the Anita Hill controversy. However, he then took the opportunity to completely dismiss the notion that Herman Cain ever had a chance of winning the Republican nomination.
"He's not going to be the nominee, if I can just be honest here for a minute. He was never going to be the nominee. The support for him, I think, was a symbol of conservative and Republican distrust of some of the frontrunners, willingness to reward someone for being bold, for having comprehensive reform plans, for being an outsider, but I think the air is slowly going to go out of the Herman Cain bubble regardless of the sexual harassment charges."
Juan Williams defended Cain and claimed he was being used as a "piñata" by the black liberal establishment and argued Kristol's point that many people, himself included, did not expect Cain to come as far as he already has in the race.
Watch the video below, courtesy of Fox News:
Have a tip we should know? tips@mediaite.com
Josh Feldman - Senior Editor