Bill Maher: 'I Would Never Try To Convince Fox News That Black People Aren't Scary…'
Maher: 'I Would Never Try To Convince Fox News That Black People Aren't Scary...'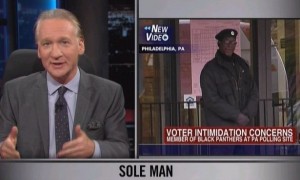 Bill Maher ended his show tonight with a New Rule pleading with minority voters not to start resenting all white people for supporting white candidates. He reassured them that "he's one of the good ones" and went down a whole laundry list, mocking everything that white America holds dear, from white politicians and ultimate frisbee to UGG boots and Fox News.
Maher opened by having some fun with Fox News for only being able to track down one suspicious-looking possible Black Panther as evidence of voter suppression, down from two such people four years ago. He said he would "never try to convince Fox News that black people aren't scary," and told the network, "the only thing being suppressed is laughter." He said that their narrative over the entire election has been "white people losing their power," but they suffer from the same problem currently plaguing the Beach Boys–"their fans are dying."
Maher observed the growing power of minorities in the United States, and sarcastically expressed his outrage over the stereotype that white people will only vote for white people. He pointed out that only 39 percent of white voters supported Obama on Tuesday, but voting for white politicians, "like most things white people do, [is] going out of style."
Maher touted all the amazing gifts white people have given to the world, including Cirque de Soleil, ultimate frisbee, turkey burgers, and golf ball washers. And he noted the only time Obama ever won the white vote in his entire political career was when his opponent was another black man (Alan Keyes).
All in all, Maher said this was "one step forward, two steps back, or as [white people] call it, dancing."
Watch the video below, courtesy of HBO:
—–
Follow Josh Feldman on Twitter: @feldmaniac
Have a tip we should know? tips@mediaite.com
Josh Feldman - Senior Editor