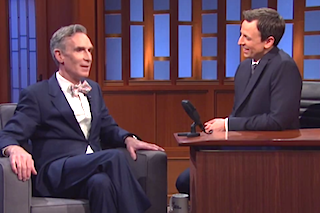 Earlier this year, Bill Nye "the Science Guy" participated in a highly-publicized debate with Creationist Museum president Ken Ham, leading many in the science community to criticize him for legitimizing the creationist movement. During an interview with Seth Meyers last night, Nye defended his role in the debate, saying he hopes he did more good than harm.
"First of all, I will say to my academic colleagues, about criticizing me for taking this on, I will say, you may be right," Nye told Meyers, "but I don't think so." He said he never would have participated in the debate if he didn't believe it was a "good thing" to do.
"We want to raise awareness of science literacy," or in this case, "science illiteracy," Nye continued. "And the reason I bring this up, you can hate me, you can hate everything, but science education is what leads to innovators," like "that kooky internet that the kids use."
RELATED: Neil deGrasse Tyson: If You Don't Believe in Science, 'Just Move Back to the Cave'
"This is deeply important to me," Nye said. "And I hope that in the coming years, awareness will be raised and voters and taxpayers will not let these people with these extraordinary, wrong views about nature — not be allowed to try to get on school boards."
Meyers agreed with Nye's sentiments, saying, "On behalf of all of us, I really appreciate your efforts," adding that unlike his critics, he thinks it's "great" that Nye did the debate.
Watch video below, via NBC:
[Photo via screengrab]
— —
>> Follow Matt Wilstein (@TheMattWilstein) on Twitter
Have a tip we should know? tips@mediaite.com