Bill O'Reilly Clashes With Bob Beckel Over Gun Control Failure, Whether Background Checks Are 'Useless'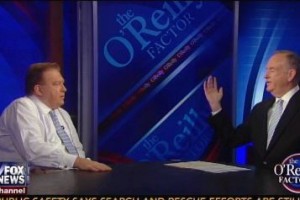 Bill O'Reilly focused on the gun debate tonight, and rebutted the idea that President Obama is serious about trying to keep guns out of the hands of criminals. O'Reilly said that the background checks bill that failed should have federalized gun crimes and made more of an emphasis on "targeting law-abiding people, not criminals." O'Reilly got heated with Bob Beckel when Beckel argued that background checks would work because all illegally-purchased guns had to be purchased legally at some point.
RELATED: 'Pretty Shameful Day For Washington': Obama Rips Senate Failure, Calls Out Gun Lobby For 'Willful Lies'
O'Reilly declared that "no law is going to stop crazy people from committing mass murder." Beckel told O'Reilly he likes the idea of federal registration, but pointed out that all guns obtained illegally were "bought legally to begin with." O'Reilly countered that there's over 100 milliion guns in the United States right now, and "criminals can start a big industry."
When O'Reilly offered a more reasonable alternative that would protect the rights of law-abiding gun owner, Beckel still predicted the NRA would "go up the wall." O'Reilly agreed that if the NRA rejected a simple, privacy-concerning measure, they would "lose all their power."
WHen the conversation took a more confrontational turn, Beckel asked O'Reilly what his problem is with background checks. O'Reilly said they are "useless," and continued to argue there is a secondary gun market criminals would exploit. Beckel pushed back against O'Reilly's argument and the idea that there is such a vast secondary gun market.
Watch the video below, courtesy of Fox News:
—–
Follow Josh Feldman on Twitter: @feldmaniac
Have a tip we should know? tips@mediaite.com
Josh Feldman - Senior Editor