Bill O'Reilly Compares 'Witch Hunt' To Fire Ellen DeGeneres From JC Penney Ads To McCarthyism
O'Reilly Compares 'Witch Hunt' To Fire Ellen From JC Penney Ads To McCarthyism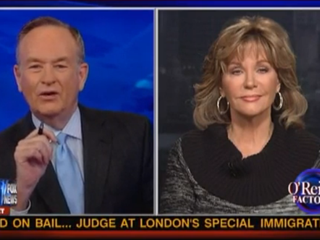 Bill O'Reilly had a particularly pro-Hollywood night tonight, as far as The Factor is typically concerned. After a segment in which he defended Clint Eastwood from claims that his Super Bowl ad was subliminal Obama campaign propaganda, O'Reilly had on Sandy Rios of Family-Pac Federal to explain the call from conservative group Million Moms to get Ellen DeGeneres fired as JC Penney spokeswoman, and he was not happy with their argument. "I don't think that's the spirit of America," he objected to Rios, who argued that DeGeneres represented immorality.
RELATED: Ellen DeGeneres Fires Back At One Million Moms, Mocks Them For Only Having 40,000 Fans On Their Facebook Page
"Is it right for any organization to call for a company to fire a spokesperson that has not done anything wrong?" O'Reilly first asked, wondering what was wrong with DeGeneres making a living. "Just because something is legal doesn't mean its moral," Rios replied, though that didn't seem to be a strong enough reason for O'Reilly, who noted that JC Penney was a private corporation that could hire whoever it wanted. "I don't think that's the spirit of America," he replied. She continued that "it isn't about Ellen DeGeneres, but it is about mainstreaming something that is not acceptable to Christian people all over the country." O'Reilly wasn't buying it.
"What is the difference between a McCarthy-era blacklist and Million Moms" not wanting DeGeneres employed, O'Reilly asked. He added that he understood the objection, but didn't see why the group didn't just call for a boycott, instead of demanding certain executive decisions from the company. "You're dodging the essential question… a conservative group in this country is asking an American citizen based upon her lifestyle, and I don't think that's correct." Rios continued to argue that the problem wasn't DeGeneres, but that "we are seeing homosexuality so embedded in our culture in alarming ways."
"It's a witch hunt and it shouldn't happen," O'Reilly concluded.
The segment via Fox News below:

Have a tip we should know? tips@mediaite.com